How to Play Mega-Sena Lottery from India
Play Mega-Sena Online
It's a carnival and you too can play the Samba dance by participating in the biggest lottery in South and Central America – the Mega-Sena lottery. Launched on March 11, 1996, this lottery offers a minimum jackpot of ₹7.7 Crores and it could be yours.
Best Mega-Sena Sites
Buy Mega-Sena Tickets in India
Online lottery operators offer Indians a chance to participate in Mega-Sena by allowing them to purchase online tickets. To do this, you'll need to find an online Mega-Sena lottery operator and create an account.
No need to worry though because we have put together a comprehensive list of trustworthy sites as you'll see above.
Mega-Sena Lottery Ticket Offers
Some of the online lottery websites thatoffer Mega-Sena online tickets includeMultilotto, lottoland, and lottosmile. You could even land an offer on Mega-Sena lottery tickets.
What is the Mega-Sena Lottery?
The Mega-Sena Lottery is the biggest in Central and South America. The idea originated from the Caixa Econômica Federal Bank, and in March 1996, the Mega-Sena Lottery was open to the public.
The Federal Bank's main aim was to raise money to fund several non-profit causes including promoting amateur sports and elementary education while giving players a chance to walk away with life-changing millions. The perfect win-win situation, don't you think?
To get a shot at winning the jackpot, you need to pick 6 numbers from 1 to 60. Note that you can also pick up to 15 numbers but you'll need to dig deeper into your pocket. The upside to the extra cost is you'll increase your winning chances because you'll have an outstanding 5,005 combination in a single draw.
The Mega Da Virada
Apart from the usual Mega-Sena jackpot, this lottery gives players a chance to win an even bigger jackpot amount. New Year's Eve presents the perfect opportunity because the lottery hosts an annual Mega Da Virada draw.
Why is this a massive jackpot? For every draw conducted throughout the year, the lottery sets aside 5% of the prize pool money that goes into the Mega Da Virada draw. This year's prize amount is tipped to reach R$300 million (₹521 Crores).
Mega-Sena Jackpot
If you thought the EuroJackpot lottery offered the best odds at winning the jackpot, you've got another thing coming. The Mega-Sena lottery comes in at 1in 50,063,860, which is more promising compared to 1 in 292,201,338 and 1 in 95,344,200 for the US Powerball and the EuroJackpot lotteries.
The prizes here are more lucrative than Indian state lotteries. Take a look at the recent wins:
| Jackpot Won | No. of Winners | Year |
| --- | --- | --- |
| R$205.3 million (₹351 Crores) | 1 | 2015 |
| R$263.2 million (₹450 Crores) | 4 | 2014 |
| R$145 million (₹248 Crores) | 2 | 2009 |
Keep in mind, the lottery makes lump-sum cash payments for all winnings.
How to Play Mega-Sena Lottery Online?
Playing Mega-Sena lottery online is simple. First, you'll need to create an account with an online lottery website that offers Mega-Sena lottery.
Afterward, you need to deposit funds to purchase an online ticket. A single ticket costs R$3.50 (approx. ₹59.48) but you can buy multiple tickets. Next, you can choose your lucky numbers and submit them for the draw.
Players can also opt for a subscription model that comes with several benefits:
Gives you a ticket for every draw for a certain period, eliminating the need to purchase a ticket every time.
You don't have to worry about missing a draw because you didn't buy a ticket.
You can set the system to pick the same numbers for every draw.
Get to cut down on ticket costs.
There's also a syndicate type of play ("Bolão") where you can create a bigger bet by splitting the ticket cost among family members or friends. The minimum number per syndicate is 2 while the maximum is 100. The prize amount will also be split equally among the syndicate members.
Lottery Payout
Unlike other lotteries that offer up to 12 prize levels, Mega-Sena online lottery offers only 3 prize tiers. This means the prizes on each tier will be higher compared to other lotteries. Furthermore, there's a certain percentage that makes up the prizes on each prize tier:
| Prize | How to Win | Odds | Percentages that make up the Prizes |
| --- | --- | --- | --- |
| Tier 1 (Jackpot) | Match 6 Numbers | 1 in 50,063,860 | 35% |
| Tier 2 | Match 5 Numbers | 1 in 154,518 | 19% |
| Tier 3 | Match 4 Numbers | 1 in 2,332 | 19% |
As you may have noticed, the total percentage is around 73%. The remaining 22% to 27% will go to boost every 5th game while the remaining 5% will go toward the annual Mega Da Virada draw.
FAQ
Yes. Similar to other lotteries worldwide, you can also play Mega-Sena from India based on the lack of a solid law that prohibits any form of online gambling.
Entering the Mega-Sena lottery online is simple. Once you choose an online operator that offers Mega-Sena lottery, create an account and fund it. Next, you need to pick 6 numbers from 1 to 60. Note that you can pick more numbers, up to 15, and while it'll cost you more, you'll have more chances of winning.
A single Mega-Sena lottery ticket will take you back R$3.50 (approximately ₹59.48). Quite a small amount to pay considering the ultimate reward. This price will allow you to pick 6 numbers, equivalent to one game.
The highest the Mega-Sena jackpot went takes us back to 2014 when a winner took home a jaw-dropping R$263.2 million. This is about ₹640 Crores.
Saturdays and Wednesdays at 8pm Brazilian time. This is around 02:30 IST on Sundays and Thursdays and takes place on a 'Luck Truck' known as the Caminhão da Sorte, or on TV.
Yes. Since the laws don't prohibit any form of online gambling in India, players from any Indian state are free to participate in the Mega-Sena online lottery without the fear of prosecution. This is as long as the lottery operates legally in its host country. In this case, Brazil.
When registering on a specific online lottery website, you'll be asked to provide contact details including your mobile phone number and email address. Should you win a substantial amount, the lottery site will contact you and give you directions on how you'll receive your funds.
There's no stipulated time for collecting your Mega-Sena winnings. As soon as you win a prize, the website will credit your account automatically. Therefore, you'll have funds available in your lottery website account to withdraw.
Yes. Your winnings on the Mega-Sena lottery will attract a 13.8% income tax. However, you need to consult a financial advisor knowledgeable on Indian tax laws for further advice.
No. There's no need to pay any fee to collect your Mega-Sena winnings.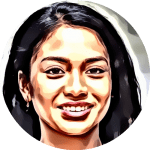 Shruti J.
Head of Content
The wordsmith of the group, Shruti is busy enjoying her newfound passion for online casino games. When she's happy, she would bet the ranch to plan and create killer casino content – the ones that urge you to play. If things don't go the way she wants them to, she would constantly act like the world is about to end. Except Vegas. That's where she plans to be.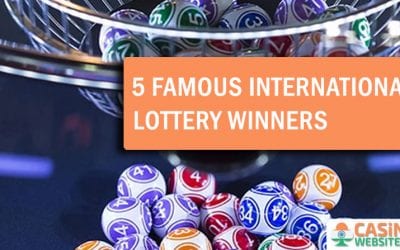 Read the detailed stories of 5 famous Indian lottery players who struck gold by buying tickets to international draws. Check out their winning numbers and the amazing amounts of money they won. If you follow suit, you might have a chance as well.

Welcome offer: 1 US Powerball FREE! | On first purchase

Best Lottery Site
1 US Powerball FREE!