How to Play US Powerball Lottery from India
US PowerBall
The biggest lottery worldwide, the US Powerball can be a life changer even if you don't hit the jackpot. Thanks to emerging lotto sites, you can now easily play Powerball from India. Learn how the lottery works and how to buy tickets.
Best Powerball Sites
Buy US Powerball Tickets in India
Can I play US Powerball lottery online from India? – If your question is this, our answer is a big yes. It is legal to buy Powerball tickets online because the existing ban on gambling activities only affects lotteries within the country.
Since the sites that sell US Powerball tickets operate from outside India and the draw takes place in the US, Indians are free to play Powerball online from the comfort of their home.
US Powerball Lottery Ticket Offers
Several sites offer US Powerball lottery ticket offers. For instance Lotto247 and PlayHugeLottos.com will give you a free US Powerball ticket when you buy your first ticket to any international lotto draw on these websites.
Similarly, Lotto Agent offers a discount on the first lottery ticket, meaning you can buy a ticket to US Powerball at a rate cheaper than the standard.
What is the US Powerball Lottery?
Originally known as Lotto America, the Powerball lottery started in 1988. Afterward, in 1992, the name and the game format changed with the first draw under the new name taking place on April 19th, 1992.
The format changed to the now-popular two-drum concept that uses two containers from which players must choose their preferred numbers. Other lotteries such as Mega Millions, EuroJackpot, and EuroMillions have since taken up this concept.
This is how it works: The US Powerball lottery uses 69 balls labeled 1 to 69 and an additional 26 Powerball numbers labeled 1 to 26. To play, you must pick 6 numbers in total, five from 1 to 69 and one Powerball number from 1 to 26.
If on the draw day, all your numbers match the winning numbers, you will walk away a multimillionaire.
US Powerball Jackpot
The advertised US Powerball Jackpot starts at $40 million (approximately ₹287 crores). If there's no winner on draw day, the jackpot increases by $10 million until there's a winner. To hit this jackpot, you must be in sync with the gods of luck because the odds stand at 1 in 292,201,338.
However, even if you don't hit the jackpot, you stand a chance to win a second prize worth $1 million. It may not be as much as the jackpot amount, but it is still life-changing.
What is the Best Way to Play US Powerball Lottery Online?
First, you must choose a trusted lottery website that allows you to buy Powerball tickets online. No worries about that thanks to the curated list by our experts at the top of the page.
Afterward, you can choose the best way to play Powerball depending on your situation. Here are three popular strategies you can use.
System Game
This format increases your chances of winning because it employs multiple combinations. For instance, you can choose one combination with 5 numbers up to 792 combinations containing 12 numbers.
Group Play
With this variant, players can settle the ticket cost among a group of friends or family members. This is a form of lottery syndicate that increases your winning odds by allowing you to pick a combo of the main numbers starting from 5 to 12 and up to 2 bonus numbers.
Note that you must provide the group's details including the name and the number of people in the group. After winning, the website will split the possible winnings among the group players.
Hot and Cold Numbers
Hot numbers are those which appear frequently in Powerball draws. They are 41, 32, 23, 20, and 16. On the other hand, cold numbers refer to numbers that rarely appear in the draws. These numbers include 68, 67, 66, 65, and 60.
There's another category referred to as overdue numbers. As the name suggests, these are numbers that don't appear in consecutive draws. As such, players believe that it's only a matter of time before they reappear.
US Powerball Lottery Payout
The payout format depends on how many of your numbers match the winning numbers. Of course, the biggest one is when you hit the jackpot but if you match the Powerball number, you'll get between 200x or 300x your ticket price.
For instance, the average ticket price is ₹2. Therefore, you can get up to ₹400. For the jackpot, players will have the option of receiving a lump sum amount or an annual payment paid over 30 years. The former comes with a disadvantage – the lottery company will deduct a certain amount from the jackpot.
Here's a detailed table showing the payout:
| Number | Prize |
| --- | --- |
| Match 5 numbers + Powerball | ₹100crores |
| Match 5 numbers | ₹1crore |
| Match 4 numbers + Powerball | ₹7Lakh |
| Match 4 numbers | ₹7000 |
| Match 3 numbers + Powerball | ₹7000 |
| Match 3 numbers | ₹500 |
| Match 2 numbers + Powerball | ₹500 |
| Match 1 number + Powerball | ₹275 |
| Zero matched numbers + Powerball | ₹207 |
Powerball Lottery FAQ
Yes. You can play the US Powerball from India because the law, as it is, only restricts lotteries within the country. Since the Powerball draw happens in the US and the lottery websites operate outside India, Indian players have a window to play the US Powerball.
To play the US Powerball lottery, you must purchase a Powerball lottery ticket. You can do this by signing up on one of the Powerball sites listed above. Afterward, choose your five numbers and a Powerball number and wait for the winning numbers on draw day.
Considering the huge jackpot at stake, the cost of a US Powerball ticket is quite low. The physical ticket goes for $2 in New York. This translates to 200 Rupees on Indian lottery sites.
Currently, the highest the US Powerball jackpot went was $1.586 billion (About Rs. 11229 crores). This was in 2016 and three winners shared the jackpot amount. This massive jackpot is also the biggest ever lottery jackpot worldwide.
The US Powerball draw happens twice a week. That is Wednesday and Saturday at 23:00 EST. In Indian time, this is every Thursday and Sunday at 08:30 AM.
Yes. You can play Powerball from any Indian state. Remember that Indian lottery laws only affect lotteries within the country and don't apply to foreign online operators. This makes it possible for Indian players regardless of the state they are in to play the US Powerball.
After winning the Powerball jackpot or any other prize, the online lottery site will claim the winnings on your behalf. Thereafter, the site will deposit the funds in your wallet. Keep in mind, the online lottery site will not claim any commission. The online lottery will then contact you through the email address you provided when signing up.
After winning a prize in the Powerball draw, the online site will contact you through email or text message. The winnings will then be available in your account, so technically, there's no collection period.
According to the Indian laws, winnings over ₹10,000 attract a 0% flat tax. Nevertheless, anything under ₹10,000 will not attract any tax. With that said, the law requires you to file your Income Tax returns every year, and this includes the amount you win on Powerball draws.
No. You don't need to pay a single cent in fees to collect your Powerball winnings thanks to the gift of online transactions. Therefore, you'll get 100% of your winnings.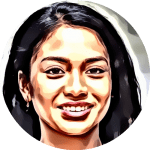 Shruti J.
Head of Content
The wordsmith of the group, Shruti is busy enjoying her newfound passion for online casino games. When she's happy, she would bet the ranch to plan and create killer casino content – the ones that urge you to play. If things don't go the way she wants them to, she would constantly act like the world is about to end. Except Vegas. That's where she plans to be.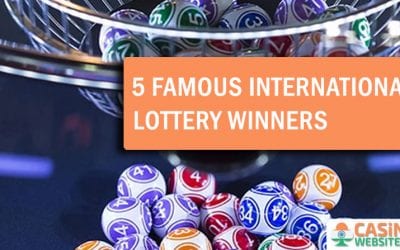 Read the detailed stories of 5 famous Indian lottery players who struck gold by buying tickets to international draws. Check out their winning numbers and the amazing amounts of money they won. If you follow suit, you might have a chance as well.

Welcome offer: 1 US Powerball FREE! | On first purchase

Best Lottery Site
1 US Powerball FREE!