BEST TEEN PATTI REAL MONEY CASINOS ONLINE FOR INDIAN PLAYERS
An Indian game of English provenance – Teen Patti is a Hindi phrase that translates to 'Three Cards.' It has its roots in a 16th-century British game called Three Card Brag, which itself is an offshoot of Primero – an Elizabethan game and an ancestor of Poker. It reached India and went full desi to become the most sought-after gambling card game in the country. Fast forward to the age of the Internet – the game has jumped from physical tables onto our screens. It is now available in online casinos you can play at from your home! Wondering which are the top ones?. Find a list of the best teen patti real money casinos that accept Indian players.
Video Tutorial: How to Play Teen Patti at an Online Casino in India
Everything You Need to Know About Playing Online Teen Patti in India
---
Teen Patti is a game of skill as well as chance. It is also known as Indian Poker because of its resemblance to the western Poker game. For lovers of card games and gambling, this has been more of a tradition and one of the staple games for generations now. This social card game is on a par with other local Indian gambling games such as Jhandi Munda, Andar Bahar, Paplu, and Passa. The popularity of Teen Patti is such that it isn't limited to gatherings and tournaments anymore. During almost every festive season or family event in India, Teen Patti is seen as a source of mutual entertainment.
To put it in perspective, it's not always about the money or winning. It's also about the adrenaline rush. A common saying goes if you're an Indian and haven't heard about Teen Patti, you're not desi enough. Indeed, this game is a phenomenon. This is why it has easily made its way into the online gambling scenario in Indian and beyond. If you're looking for the best online casinos with real Teen Patti card game, check out the top ones we picked out for you below.
Where to Play Teen Patti for Real Money Online?
Teen Patti: India's Favorite Gambling Card Game
'Flash,' 'Flush,' 'Tash Patti,' 'Tash Wala Game' – the game has many names. But, the love for Teen Patti unites India and the gamblers in the country. The objective is one – get the best 3-card hand and win the pot. If you haven't tried out the game yet, you're missing out on some kickass fun. Don't wait for friends to invite you over for a night out or decide on a common time and place. Teen Patti is no longer confined to the four walls of your room. It has already crossed borders and can now be found in most online casinos today. Assuming you already know the rules and are eager to play it, we recommend below the best online casinos with real money Teen Patti that accept Indian players. Pick your poison and enjoy. Or, if you're not sure about the rules, scroll down further and learn the game first. It's your call!
Basics, Terminologies, and Rules of Teen Patti
If you understand Poker, you'd surely get the hang of Teen Patti as well. If you don't, we are here to help. Before we begin, let's remember 6 vital aspects of the game.
Teen Patti at a Glance
| | |
| --- | --- |
| No. of Players | Up to 10 (optional) |
| Game Type | Card Game |
| Skills Needed | Counting |
| Card Deck | Anglo-American (52 cards) |
| Deal and Play | Anticlockwise |
| Randomness | Medium |
How does the Game Begin?
Teen Patti is usually played in groups of 2 – 10 people using a 52-card deck. Please note that a card deck for Teen Patti doesn't have Jokers. Traditionally, the game begins with all the players deciding on a boot amount (ante) first and contributing to the pot (the table). This is the minimum stake that defines the pot and is central to the game.
This is followed by the one of the players choosing to deal the cards. The play happens counterclockwise with the betting beginning with the player next to the dealer. The latter deals three (3) cards face down for each player.
Goal: Maximize The Pot And Get The Hand With The Best Or Highest 3 Cards
The pot grows as the game progresses and is eventually hit by the winner of the hand with the best three cards. The winner becomes the subsequent dealer in the next hand. In Teen Patti, a winner is defined as the person who outlasts all others and reaches the completion of the game with the best or highest hand according to the ranking of the cards.
Trail | Set | Trio
A Trail or Set in Teen Patti is a combination of three cards of the same rank. The highest is a 3 of Aces followed by a 3 of Kings and then a 3 of Queens and so on. The lowest in this rank is a 3 of 2s. The combinations can be of any color or suit.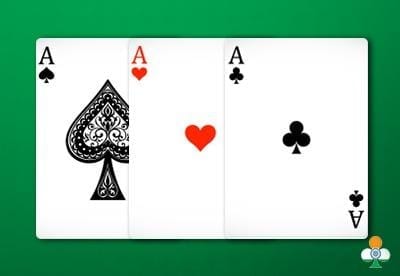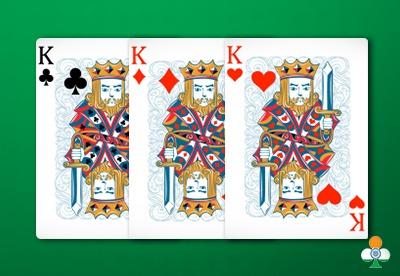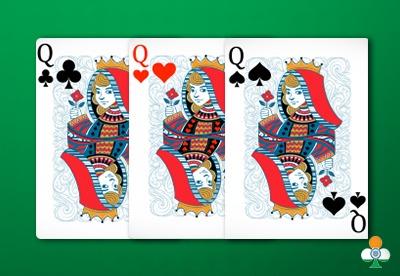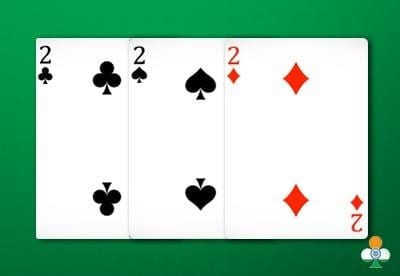 Pure Sequence | Straight Flush | Pakki Round
It consists of three cards with the same suit (for instance A-K-Q of diamond). In Teen Patti, a sequence of A-K-Qs is considered to be of the highest rank and A-2-3 of the second highest rank. The lowest is 4-3-2.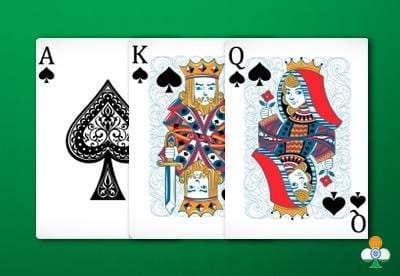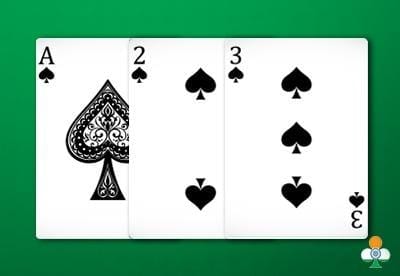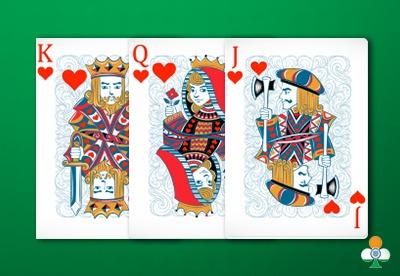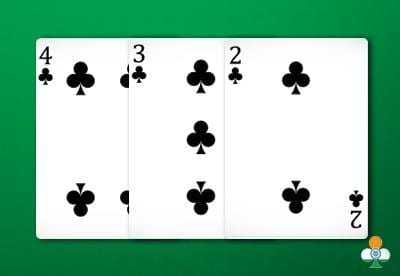 Sequence | Run | Straight
This one is made up of three consecutive cards, but not of the same suit. For instance, a 4-5-6 or 7-8-9 of different suits can form a sequence in Teen Patti.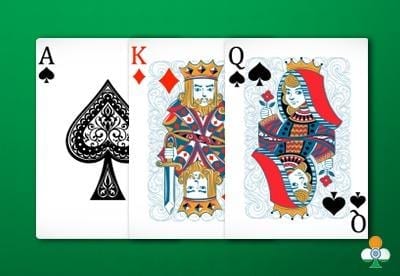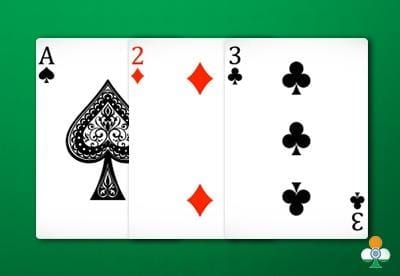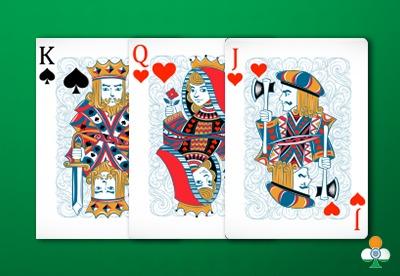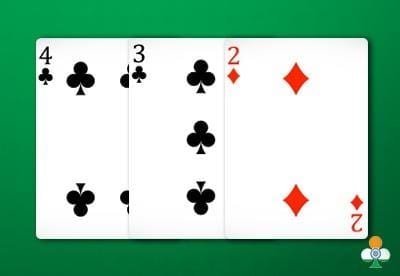 Color | Flush
In Teen Patti, three cards of the same suit, but not in a sequence can form a rank based on color. The highest card combo is the winner. The highest in a Color Flush is A-K-J followed by A-Q-J. The lowest is 5-3-2.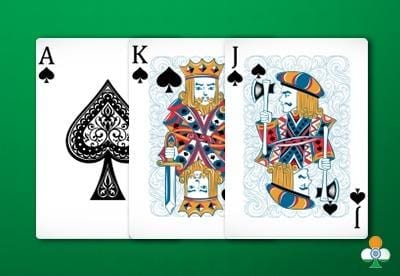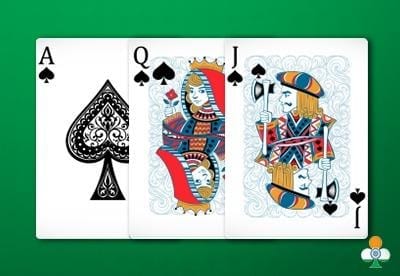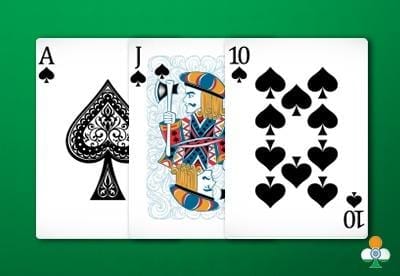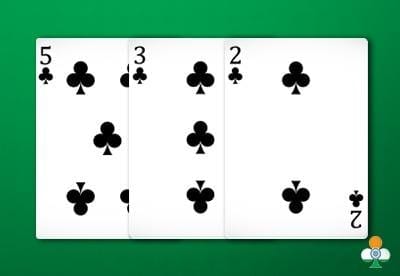 Pair
A pair in Teen Patti is a 3 card combo where two cards are of the same rank, regardless of suit. Here, the odd card determines the rank. The highest hand is A-A-K and the lowest is 2-2-3.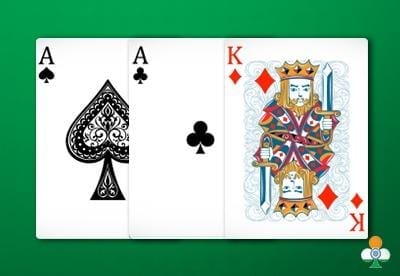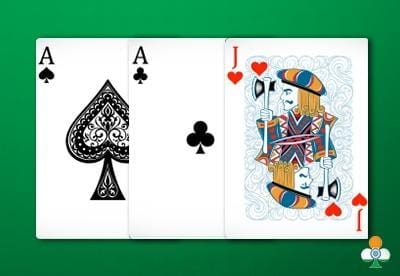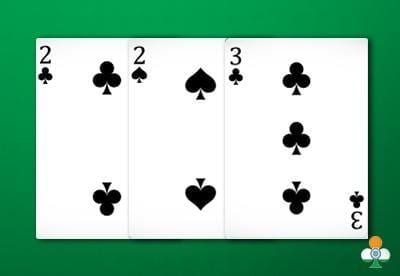 High Card
The last in the lot, a High Card in Teen Patti is a combination of three cards that does not fit into any of the above categories. The cards are not with the same suit. The rank is determined by comparing the highest card first and then second and so on. The highest hand in a High Card combo is A-K-J of mixed suit and the lowest is 5-3-2.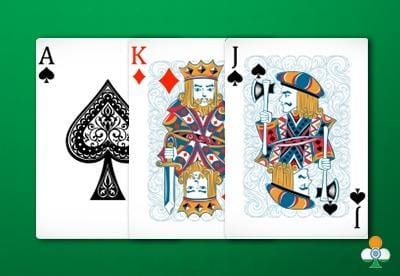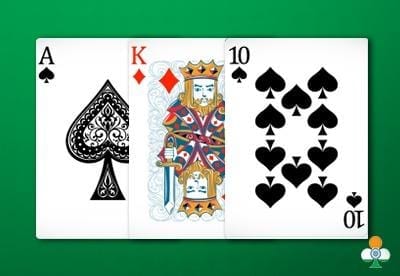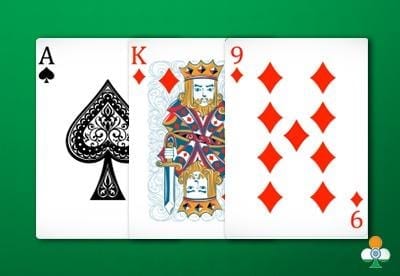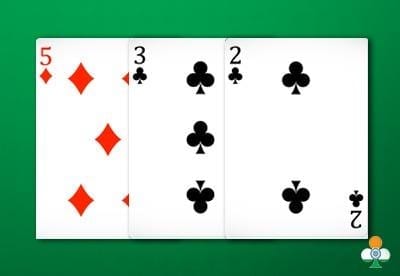 Teen Patti Terminologies You Need to Know
Chaal
This is the amount you need to pay when you play by looking at your cards. A chaal is determined by two components – call (match the highest bet) and raise (increase the previous high bet). That is, each player has to bet an amount equal to or more than the previous player's. If the bet is raised, it becomes the new current bet. The raise is usually limited to 2x that of the previous player's amount. Further, the bet has to be in even numbers – 2x, 4x, 6x, 8x, etc, especially when there's a blind player in the game.
Blind
A player in Teen Patti can choose to look at his card or play without looking at it. The latter process is known as 'playing blind' where the player leaves his cards face down on the table. The player who chooses to play blind needs to pay only half the amount of what another player pays when he decides to look at his cards. Please note that playing blind comes with limitations depending on the pot size. Beyond this, a player would be obliged to look at his cards.
Ante (Boot)
The equal amount (money or chips) each participant in the game needs to pay before dealing the cards. This is the minimum wager defined in the game. Ante can also be a single large amount paid by one player on n anticlockwise rotation basis. This is seen a compulsory bet.
Loose and Tight Play
This defines the tendency of a player to bet beyond the first round or fold. A tight play involves folding weak hands. A loose play involves players betting more on weak hands, thus accelerating the showdown.
Fold (Pack)
A player can decide to fold when he believes he doesn't have a good hand and wishes to quit the game for that round.
Side Pot (Compromise)
This one is a show between two players who have seen their cards. The first player can request a second who played last to have a side pot. This is viable only if the second player accepts the request. If the request is rejected, the first player has to pay a sum equal to the bet amount of the previous player. If the request is accepted, and the player requesting it gets a stronger hand, the player accepting it has to fold. The vice versa is true as well. Also, if there's a tie, the player requesting a side pot has to fold.
Show
This happens when the game is about to culminate and there are two players left. Both the players then need to 'show' their cards so the winner can be decided. However, this isn't a mutual thing. If one of the players decides to show his cards, the other is obliged to do the same. If not, the game continues. Before showing his hands, the opponent has to pay a sum equal to the previous bet. If not, he can fold his hand.


Post


When a player is temporary away and misses an ante, he has to 'post' to come back to the game. This is done by paying the ante applicable to the next hand the player participates in. This is the amount he missed. For fair play, only one missed ante is accumulated per player, dismissing all the old ones.
Seen


A player who places a bet after seeing his cards is known as a seen player. It is the opposite of blind. A seen player always has to bet 2x the amount of a blind player to stay in the game.


Pot
The combined ante at the center of the table. Don't think of it as a literal pot.
How is a Teen Patti Bet Placed?
Once the cards are dealt face down, the betting begins. The player right to the dealer starts the betting followed by the others acting according to their respective card strengths. Each player can do any of the two things:
Choose to wager an additional bet into the pot and stay in the game.
Pay nothing, fold instead, and preparing to give up everything all that has gone into the pot so far.
If a player chooses to wager an additional bet, here are the options:
Blind players need to put in an amount that at least equals the current stake (the ante from each player in the pot) and doesn't exceed 2x the same. The amount that goes in would be the current stake for the next player.
Seen players need to put in at least 2x the current stake and not more than 4x the same. Half this amount in the current stake for the next player.
Blind players can choose to look at their cards when their turn comes. They would then be known as seen players from thereon, and need to bet at least 2x the current stake. They may also choose to fold.
Teen Patti betting rounds are unlimited. The last round has two players deciding to display their cards eventually. The one with the highest ranking wins. However, a winner can also be decided when all players except one decide to fold.
What are the Rules for 'Show' in Teen Patti?
A show can happen only when there are two players remaining in the game.
For blind players, a show would cost an amount that equals the current stake which has been contributed to the pot. This is irrespective of whether the other player is seen or blind. Moreover, if a blind player chooses to show, he cannot look at his own cards until he has paid the aforementioned amount.
A seen player cannot demand for a show if the other player is blind. The former only has the liberty to stay in the game or fold.
In case the remaining players are both seen, either player pays 2x the current stake for a show.
During a show, both players need to expose their cards to decide the winner. The one with the higher hand wins the pot. For equal hands, the one who didn't pay for the show is the winner.
Here's an Example:
Current Stake: 1 Unit

 

 
Players

 

 
Ante

 

 
Type

 

 
Bet 1

 

 
Bet 2

 

 
Bet 3

 

 
A
1 Unit
Blind Player
1 Unit
2 Units
4 Units, Seen Player, Request to Show

 

 
B

 

 
1 Unit

 

 
Seen Player

 

 
Fold

 

 
–

 

 
–

 

 
C

 

 
1 Unit

 

 
Blind Player

 

 
1 Unit

 

 
Fold

 

 
–

 

 
D

 

 
1 Unit

 

 
Seen Player / Dealer

 

 
2 Units

 

 
4 Units

 

 
Accept Request to Show

 

 
The winner (A or D) with the higher hand rank gets to keep the pot.
Betting Structure in Teen Patti
Fixed Limit: Max raise amount is equal to the last bet amount. Thus, the max bet is 2x of the last bet amount.
No-Limit: Players can place bets without limits.
Spread Limit: Players can place raise an amount within a predetermined maximum.
Pot-Limit: Players can raise an amount equal to the whole pot before the raise.
To understand pot-limit, consider this example: Let there be an ante of 50 INR and a forced blind bet of 10 INR. Let us assume all others in the game are seen players. So, the next player might bet 20 INR (2x of the first blind bet) and raise the ante to 80 INR (50 + 10 + 20) to equal his total bet to 100 INR (20 + 80). In the latter case, 100 INR would be the new current stake and the total pot size would be 160 INR (100 + 50 + 10). Again, the subsequent player might place the minimum bet of 100 INR and raise up to 260 INR (100 + 160) for a bet of 360 INR (100 + 100 + 160). For the next player, 360 INR would be the call amount which he would need to raise up to 880 INR (360 + 360 + 160), and so on.
Limited Stakes in Teen Patti
While playing Teen Patti for the first time, you get to play on a limited stake table first. Here are the limitations set on this table:
The boot amount is 2x
The max blinds you can play is 4
The max chaal you can play in 256.
The pot size is limited to 2048.
Once the pot limit is reached, all players would be obliged to show their cards. The player with the highest ranked hand wins the whole pot.
Players then move on to the next limited stake table which comes with the following limitations:
The boot amount is 4x
The max blinds you can play is 4
The max chaal you can play in 512.
The pot size is limited to 4096.
Professional players who have played multiple hands and possess different chips can then continue playing on higher stake tables.
Win Potential in Teen Patti
Luck works more than skills in Teen Patti. Below is a brief idea of the odds of winning according to the different hands.
Hand Type
Frequency
52-card Deck w/o Joker
Odds
Probability
Cumulative Probability
Trail | Set | Trio
52
0.24%
0.24%
424.00:1
Pure Sequence | Straight Flush |

 

Pakki Round
48
0.22%
0.45%
459.42:1
Sequence | Run | Straight
720
3.26%
3.71%
29.69:1
Color | Flush
1096
4.96%
8.67%
19.16:1
Pair
3744
16.94%
25.61%
4.90:1
High Card
16440
74.39%
100.00%
0.34:1
Total
22,100
100.00%
100.00%
0.00:1
Players Also Need to Remember…
Teen Patti with Joker CardsThe standard 52 card deck aside, Teen Patti can also be played by adding the two Joker cards, which are now treated as wild cards. In this case, the above hand ranking would include Joker of hearts, spades, diamonds, and clubs in the combinations. For instance, the highest in a Color Flush would be A-K-J and so on.
Cut-For-SeatThe seating arrangement of players could also be determined according to the relative ranking of the cards. This is a process known as cut-for-seat where the players display the bottom card of the 3 cut cards. They are then seated based on the ranking – highest to lowest cards, anticlockwise.
Winning the PotA hand of higher category would always beat a hand of lower category. In case two players reach hands of the same rank, the pot is split between the two regardless of who wanted the showdown. However, in case the suits determine the rank, the player with the higher suit would be the winner.
What is Online Teen Patti?
---
Online Teen Patti is nothing but the digital version of traditional Teen Patti. The basic gameplay and rules remain the same. The only difference is you don't need a fixed time and location to play it with your friends. With the advent of online gambling and rapidly improving Internet, you can now pick your own time and play Teen Patti from the comfort of your home with some players sitting miles away.
This exciting card game has taken the iGaming industry by storm. Casinos online now allow players to instantly access the software version directly on their mobile. While some offer it as downloadable software, others enable instant play. Indian players can now access their favorite card game right through their mobile devices and easily play online Teen Patti for real Indian Rupees!
Google Trends tell us about the popularity of traditional Teen Patti..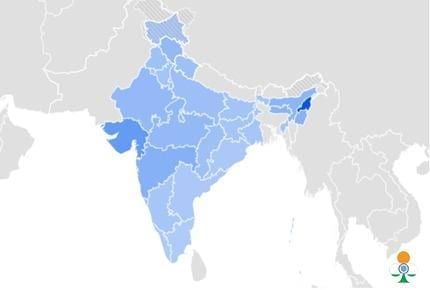 …and about the growing popularity of ONLINE Teen Patti in the country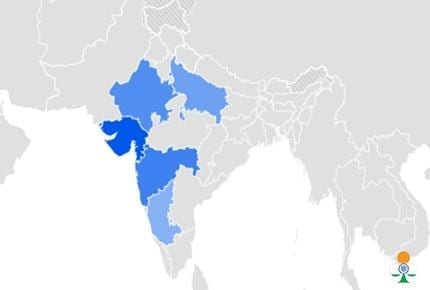 Online vs. Offline Teen Patti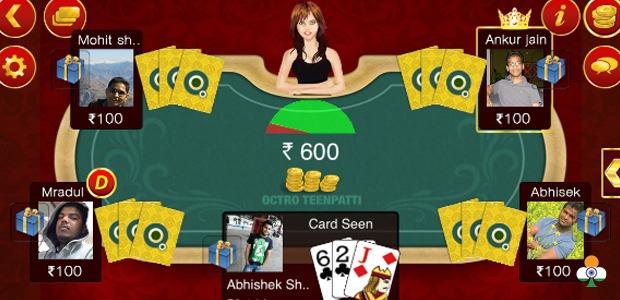 ONLINE TEEN PATTI
Play at a time you choose
Play from the comfort of your home or office
Available 24/7. No time constraints
Play with other remote players
Improved decision making
All casinos and game varieties at your fingertips
Different options of payments
Enjoy casino bonuses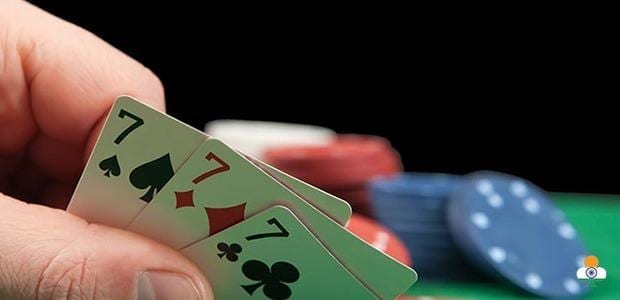 OFFLINE TEEN PATTI
Decide on a mutual time
Decide on a mutual location
Available for a limited time
Be dependent on friends
Improved decision making
Game is limited to single sessions only
Only one option of payment – cash (if you're playing for real money.
No casino bonuses
How Does Teen Patti Differ from Poker?
---
Teen Patti, the Indian Poker game, might draw parallels with western Poker. However, it differs from the same in multiple ways. There's no right or wrong and better or worse. There are just two games, each with its own rules and entertainment factor. Check out our full article on the similarities and differences between Teen Patti and Poker. And if you want a gist, check the comparison chart below.
Teen Patti vs. Poker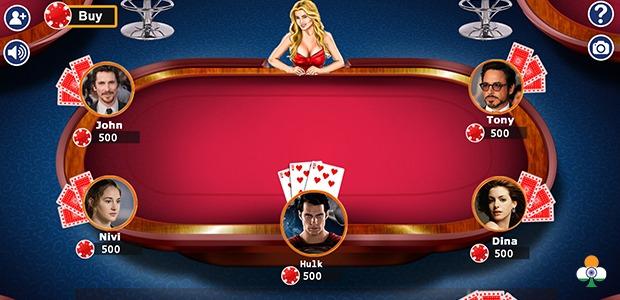 TEEN PATTI
Gameplay is anticlockwise.
Teen Patti is usually a 3 card game.
The pot size is determined beforehand.
Bets cannot be equalized.
Showdown is possible only with two players remaining in the game.
A game of more luck than skill.
Unlimited variations.
Unlimited number of players (usually capped at 10)
Rules vary according to players.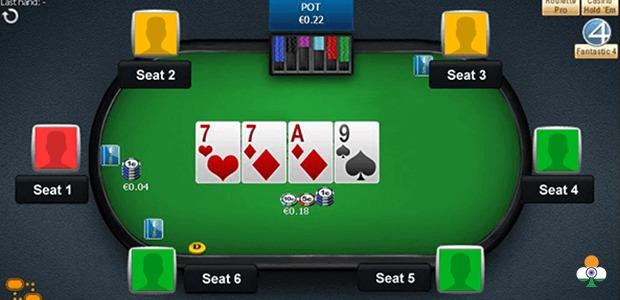 POKER
Gameplay is clockwise.
The number of cards in poker is usually 5.
The pot size is not determined beforehand.
Bets can be equalized.
Showdown is possible with more than two players remaining in the game as well
A game of more skill than luck.
Limited variations (primarily 4).
Maximum 9 players at the table
Fixed rules for all players.
Teen Patti: Playing for Free vs. Real Money
---
If you're a beginner unsure about the game and its rules, it better to polish your skills by playing Teen Patti for free first and then moving onto an online casino to play it for real money. Figure out the nuances and twists of the game and places where you can implement strategies of your own. Once you are confident enough pick a casino from our list and get into the real battlefield! Get started with real money Teen Patti thereon and never lose a bet!
How to Play Real Money Teen Patti Online?
---
This gambling game is so Indian that merely seeing it at an online casino gives us the thrills! However, not every casino is trustful. This is where CasinoWebsites.in steps in. Our team has reviewed the best real money Teen Patti casinos in India based on their credibility, player centricity, and Rupee support. Just pick one from our list of casinos and enjoy. Whenever you register at online casinos we recommend, prepare to receive exciting bonuses and other rewards. Here are a few things new online Teen Patti players should keep in mind:
Always register with a valid email id and phone number.
Don't skip the steps that ask for credentials.
Never feed in wrong credentials.
Correct information is needed for glitch-free money transaction.
Without proper identification, your casino account could be banned.
Decide on your version of Teen Patti before you start playing.
Teen Patti: Virtual vs. Live Casino Gaming
---
Lovers of online Teen Patti would be delighted to know the game can be played in real time with live dealers, too! This is akin to playing at a brick-and-mortar casino in total Amitabh Bachchan style. Virtual and live Teen Patti are equally enthralling. Here's what makes both awesome: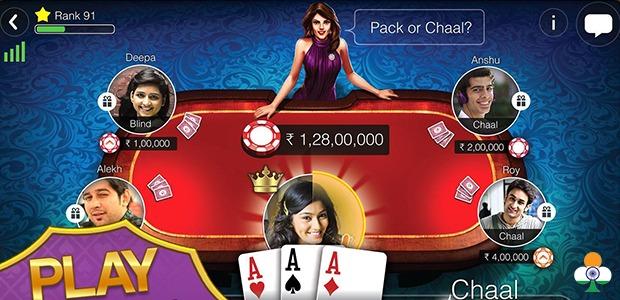 VIRTUAL TEEN PATTI
Preset game with a computer-operated dealer
Can be played for free as well as real money
Software with great graphics animated in 2D or 3D.
Multiple payment options enabled
Fair play ensured
Exclusive welcome bonuses or in-game bonuses from the casino
Cannot interact with fellow players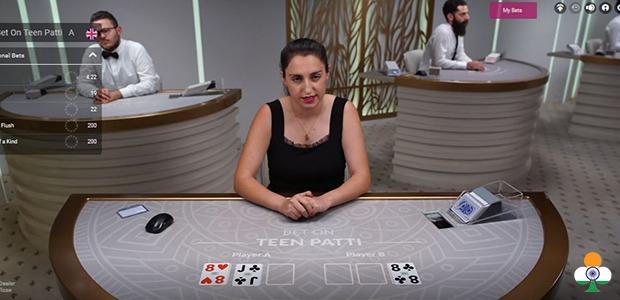 TEEN PATTI LIVE
Real-time game with a live dealer
Can be played only for real money
Game is live streamed in HD from a casino studio
Multiple payment options enabled
Fair play ensured
Exclusive live casino bonuses
Can interact with fellow players
Is Online Teen Patti Legal in India?
---
The Supreme Court of India rules Teen Patti as a game of skill. To that end, it is absolutely legal in the country to play Teen Patti game for real money. Players should note that casinos and gambling in India are legal in the country based on the location and what the law defines. Read out article on the legality of online gambling in India to know more about what's legit and what's not in the country.
Additionally, there's good news for online Teen Patti players. The Constitution of India doesn't specify anything about online gambling in particular. The rules for offline gambling, too, are rather vague. If you're playing at an online casino located abroad, you cannot be penalized or held guilty by the law. This makes it totally safe for punters to try out real money Teen Patti games at online casinos that accept Indian players.
Is it Safe to Play Online Teen Patti?
---
It is certainly safe to play online Teen Patti provided you've chosen an online casino that's trustful. Especially when you're playing for real money, you need to make some conscious effort and ensure safety. Of course, you don't have all the time in the world to analyze casino after casino and take the lucky dip.
This is why we at CasinoWebsites take the load off you and dedicate ourselves to scrutinizing casinos. With us, find the most trusted Teen Patti casinos that are just perfect for Indian players. So, before you dream about those three lucky cards, make it a point to read our casino reviews.
Additionally, also take care that you play only at those online casinos that offer the following without pulling shenanigans:
Quick payouts consistently without holdups.
Fixed terms that aren't change without the players being informed beforehand.
Realistic promotions that are totally likely to be given away.
A proper player policy so disputes can be resolved easily.
Guidance on responsible gambling and player control.
Teen Patti games from trusted game providers.
SSL certificate to ensure player safety.
RNG tested gaming to ensure fair play.
If you have the above points sorted, you are more than safe to play Teen Patti at an online casino in India.
Online Teen Patti on Mobile Devices
---
When it comes to online gambling, change is the only constant. With Teen Patti having an incredible mass appeal in India, the game has reached us online and how! At present times, it is driving the global mobile gaming industry that contributes 61% of revenue to the overall gambling industry according to Online Gambling Quarterly. Yes, the unhindered popularity of the game has translated into online amusement now. In fact, Teen Patti, along with other card games is estimated to grow by 50-100% year-on-year according to KPMG. As such, expect to find more apps or mobile-compatible instant play versions of Teen Patti coming to your screens. Whether you are playing the instant play version or the downloadable one, here are the basic features the software should have:
Auto Update – bringing you the latest exciting from the makers.
Enhanced UX – easy navigation and user friendliness.
Multiplayer Mode – for more than one player to participate in Teen Patti
Cloud Gaming – especially true for apps.
Cross compatibility – to work seamlessly across devices of varied screen sizes.
Cross Secure payment – using multiple trusted modes
Strategies: How to Win in Online Teen Patti?
---
Teen Patti might seem like an easy game. But, it's far from simple. The betting process is twisted and new players could find it downright challenging. This is why it is important to learn the sure-fire strategies of winning Teen Patti online, especially when playing for real money and wish to win big. If you're a blind player, you must know when to see your cards. If you're betting, you must learn when to raise or fold. Bluffing is part and parcel of the game and only the right combination of skill and luck can help you win. To quote an Indian Teen Patti lover, you need to play the game to learn the game!
Here are some pro tips:
Take advantage of the free chips you receive and play with them in the beginning. That's basically free money!
Begin by betting small money to stake multiple hands instead of betting big money and losing it all in a single hand.
Study the game and your opponent.
Never let your emotions get the better of you.
If you have a good hand, do not go for a big bet instantly. This could cause other players to fold quickly, resulting in a small pot size.
Always play blind at least for the first couple of rounds. Seen players are usually restless and give away cards soon.
If you are not very sure about your cards, choose the side pot strategy. This is an amazing way of knowing whether your hand is worth continuing or folding.
Never ever make it obvious when you have weak cards. Always bluff.
Don't let a few rounds of losing dishearten you. Teen Patti is about finding the right moment to place a bet. Impatience is such a killjoy.
Who's Up for Teen Patti?
---
An insanely popular game and a part of pop culture in India, Teen Patti is a household name in the country. So much is the frenzy around it that the game has made its way into Bollywood as well. How could the global online gambling industry not notice this? So, lo and behold, we have it garnishing the game library of iGaming software providers and the game selection of online casinos. As for us, we are just elated online Teen Patti happened. We are hungry Indian players. We look for desi inspirations. If we have it, we are happy!