Side Bet City Review: an 80s-Themed Poker Variant
Tired of playing same ol' casino games over and over again? Looking for something new and exciting?
Well, Side Bet City could be your cup of tea since this new release from Evolution Gaming seems to be taking the casino world by storm. In fact, Side Bet City only went live in June 2019, and it already attracted a lot of attention worldwide.
Of course, we jumped on the bandwagon as well. After playing the game for days on end, we are confident to say that we know all the ins and outs of Side Bet City.
So, stick with this Side Bet City guide and learn all there is to know about this casino game.
What is Side Bet City in the first place?
OK, we don't blame you if you don't even know what is Side Bet City and how to play it. After all, this unique concept has seen the light of day a couple of months ago.
With that being said, players who want to try this game at one of the online casinos in India should know that Side Bet City is a poker-based card game. What this means is that a certain amount of experience with playing poker will do you well.
Evolution Gaming, the leader in the Live casino segment of the online casino world, created a game that focuses on side bets, instead of the main bets. As a result, players have a chance to play a fast-paced variation of poker, 24/7. On top of that, this casino game can accept an unlimited number of players, and they can all join the fun at the same time.
In a way, Side Bet City will take you back to the 1980s. The theme of the studio and the stylish neon lights make this game a bit retro. However, there is nothing old-fashioned about the technology that delivers live action straight to the palm of your hand. Moreover, players can place the bets and engage with the game through an intuitive and optimized interface.
How to play Side Bet City – Basics of gameplay
Speaking of interface, players can interact with the game and watch the action as it unfolds. Also, they have a 15-second window between each round to place the wagers for the upcoming round. From our experience, 15 seconds was more than enough to consider the betting options and place the bets.
The dealer draws the cards from a single deck and places them onto the table. From what we could notice, the croupiers are chatty and willing to initiate a friendly banter. No complaints there. Yet, they could perhaps try to build up more anticipation and drama before each new card is revealed. By doing so, the adrenaline would go up a notch or two, providing players with more enjoyment.
So, the dealers will draw 7 cards out of the deck that has 52 cards. Since Side Bet City is based on poker hands, players need to predict whether the cards can create some of the winning hands in a typical poker game. We will elaborate on those winning hands in a moment. For now, let's check which betting decisions you will have at your disposal when playing Side Bet City.
How to place the bets in Side Bet City?
When we first joined one of the live sessions and started playing Side Bet City, we were worried about not being familiar with the bets and the gameplay. As it turns out, those fears were totally out of place. To clarify, the gameplay of Side Bet City is super-simple and betting options are easy to pick up.
In essence, players can put their chips in four positions. Those positions are the betting options available to players of the Side Bet City. Here is what each of the positions stands for:
3-card = results depend on the first three cards that come out of the deck
5-card = results depend on the first five cards
7-card = results depend on the first seven cards
All Lose = bet that indicates that there will be no winning hands
So, players can combine the first three cards to create poker hands, or they can do the same with five or seven cards. Of course, the sooner you 'assemble' a winning combo – the better!
We noticed that Side Bet City does not offer any special bets or other wagers. Yet, the game comes with relatively low entry stakes, which spells good news for beginners. To be precise, the minimum bet size for placing a wager in Side Bet City is $1. On the other hand, the game could be quite rewarding, if Lady Luck gives you the thumbs up. Unfortunately, she did not give the nod when we were playing so that we could leave the casino with the maximum reward of a whooping $10.000!
Which are the winning hands in Side Bet City?
As we said, Side Bet City was built on poker so the winning hands are the same as the ones in Texas Hold 'Em, for instance. From Pairs, all the way to Royal Flushes, the abundance of options provides players with a lot of opportunities to win.
On the right-hand side of the screen, you will notice an interactive section. In this area, players can see the payout ratio for each of the hands. Without a doubt, you'll be spending a lot of time checking out the situation in this part of the screen.
So, here are the winning hands you can 'assemble' when playing Side Bet City:
Pair
Pair of Jacks
Two pairs
Three of a Kind
Straight

Flush
Full House
Four of a Kind
Straight Flush
Royal Flush
Once again, players who are familiar with poker will have a better understanding of these hands. Therefore, refresh your knowledge of playing poker and the process of creating the winning combinations. Needless to say, you can also check out the table below, in which everything is explained in more detail.
While playing Side Bet City, we were also going after the elusive holy grail of poker – the Royal Flush. Later on, we will elaborate more on the payouts for each hand. But let's just say that the combination of A, K, Q, J and 10 pays out 1.000:1 on a 5-card position in Side Bet City! In other words, the Royal Flush in this game could be a life-changing hand.
What is the RTP when playing Side Bet City?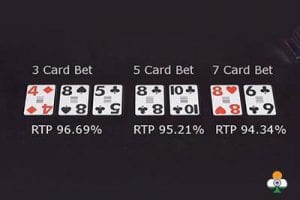 Before explaining the payout structure, it is important to note that we created this guide with a genuine intention of helping the players. Thus, you will not see us sugar-coat the truth. With that being said, it is clear that Side Bet City is a game where it could be tough to make profits.
In terms of payout frequency, this game is way below blackjack. Moreover, Side Bet City offers an RTP similar to the one you will find on slots. Of course, this is not necessarily a drawback since players could get lucky and win millions of dollars either way.
To clarify, here are the payout percentages on betting options in Side Bet City:
3-card = 96.69%
5-card = 95.21%

7-card = 94.34%
All Lose = 96.29%
As you can see, the RTP in this game varies depending on the betting option. As a result, you have four levels of payout odds. Even though RTP is not a guarantee that you will win or lose, this number can provide an illustration of what you can expect in the long run. Also, by looking at RTP, players can tweak their strategy and choose wagers that suit their playing style. In other words, some players want quick cash while others are trying to prolong their sessions and stay in the game for longer.
Payout table
Since each position in Side Bet City comes with a different RTP, players could get confused about the possible payoffs. For that reason, Evolution Gaming included the section on the right-hand side, which we already mentioned. In short, this area serves as a payout table for the game.
The tricky part for us was to get used to different winnings for each of the betting options. Thus, we decided to provide you with a clear and well-organized payout table. Each column shows the ratio for the winning hands.
You will notice that some fields in the table are empty. Well, this is because it is impossible to create certain combinations without having more cards. For instance, you cannot create a 5-card hand, such as a Straight Flush, without having five cards. Therefore, the 3-card betting option does not offer payouts for this hand.
Other than that, the payout table should be clear and easy to understand. To be honest, we found the game to be intuitive and convenient in general. The options are easy to use and clearly visible. On top of that, the section on the right will highlight the winning hand, signaling that money could be going your way if you decided to place the right bet.
What is the best betting strategy for playing Side Bet City?
First of all, your playing preferences may be different from ours. Consequently, not all betting strategies are suitable for all players.
However, we did notice that certain 'method' could yield bigger profits when playing Side Bet City. Then again, the game does not promise huge returns in the first place. A decent return was all we that we could ask for while playing the game. And, by employing the following tactic, we managed to stay in the game for long and even leave with some money in the bankroll.
So, the best strategy for playing Side Bet City is to place the bets on the 3-card position and the All Lose proposition, simultaneously. If you place these two wagers at the same time, the All Lose will act as a kind of Insurance bet. In other words, you will at least end up with a consolation win, if nothing more. Of course, the two bets need to be identical in size.
Should I bet on all options?
Speaking of simultaneous bets, you may ask yourself – what if I place four bets at the same time? Since two wagers are so good, wouldn't four bets be even better?
Well, no, they wouldn't. In other words, you should not bet on all options in Side Bet City because this strategy will quickly drain your bankroll. Admittedly, you could get a few hits that would yield a profit. For example, 5-card payouts are the most rewarding. Yet, mathematical probability says that you would be investing way more than the payoffs can cover. As a result, the price of four wagers will leave you with an empty bankroll and maybe a headache as well.
From our experience, betting on all options could be a fun little game to play. We tried it for a few rounds, and the results were decent. Yet, we did not end up with any spectacular wins, we can tell you that. Nonetheless, with a bit more luck, you could win a massive amount. Even so, we recommend using other strategies when playing Side Bet City. The bottom line is that betting on all options can drain the bankroll before you even get the chance of making yourself comfortable at the table.
Summary
Side Bet City is an extraordinary concept, full of innovative and exciting features. Evolution Gaming created a game that offers plenty of player/dealer interaction, as well as fast-paced gameplay. For that reason, players who decide to join one of the live sessions should have a great time playing Side Bet City.
Yet, the game has a few drawbacks, mostly because it does not promise huge payouts. Also, players do not have much control over the outcome, and everything is in the hands of the capricious Lady Luck. If you manage to please her, your sessions at Side Bet City could be rewarding and profitable as well.