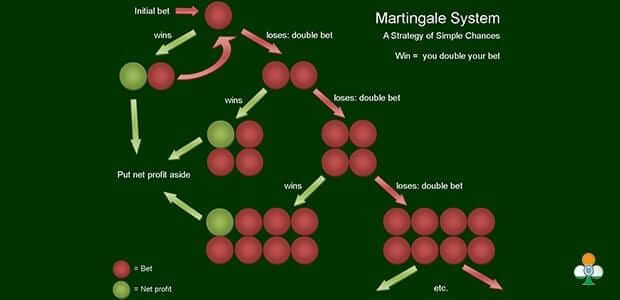 Martingale System
Martingale is the most common strategy used by Roulette players.
It uses the progressive betting approach discussed earlier, where you double the size of a bet after knowing the outcome of it.
New players are often encouraged to use this approach.
In Martingale, you are advised to start betting with the table minimum to lower the impact of a loss.
According to this approach, you place a constant amount of bet until you lose. After the loss, you double the bet.
If you lose again, you continue to double the bet. After winning, you start the process over again.
Although the strategy is considered very risky, it is straightforward in reality. If luck is on your side, you might end up earning profits.
However, you are supposed to have a large bankroll, as this keeps you playing for a long time.
One benefit of using the Martingale approach is that it equips you with skills to help you maneuver successfully in subsequent online Roulette games. On the flip side, some casinos set maximum bets and you could end up exhausting your maximum bet limit without making a win.
This is why professional Roulette players set a budget to help them monitor their spending and prevent overspending when chasing a loss. Nevertheless, players who use the Martingale strategy believe that they might be lucky enough to recover the lost money and earn some profit on top.
What Works:
Ease of play
Simplicity of the system
Applicable in land-based as well as online casinos
What Works:
Longer playtime equals more loss
Odds are against you
Doesn't work if your bankroll is limited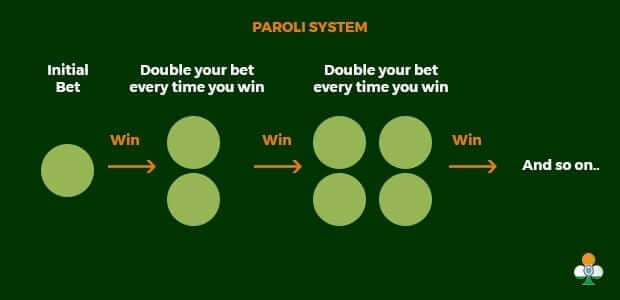 Paroli System
The Paroli system is considered the friendliest Roulette system. Here you double your bet every time you win.
In this case, you are mostly betting with the casino money that you have won and not actually from your own funds.
However, it is not always as straightforward as it seems.
In the Paroli system, you can use both the inside and outside bets. Experts advice on betting the outside bets such as red/black, even/odd, or 1-18/19-36.
To make it work, you may consider this example:
If you bet on black to show up and it does, you double your original bet since now you have the extra casino money to bet with.
This becomes the first progression. If you win on the second spin, that becomes a total of 4 chips. If you win on the next round, the chips will double again to 8. If you look at this trend carefully, you will realize that in the long run, you win over the house. Even if you lose in between the bets, the percentage will always be small.
What Works:
Easier than Martingale and Labouchère System
Betting with house money
Winning streaks can be capitalized
Modifiable to fit your betting needs
What Doesn't:
Timing is important and profits can be wiped out in a single loss
Streaks cannot be predicted and House Edge remains unaffected
Not suitable as a long-term Roulette strategy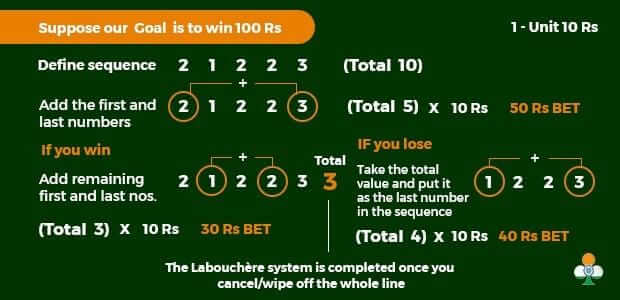 Labouchère System
In the Labouchère System, the players focus on winning less than half of their target every time they play. Before betting, players are supposed to set a goal.
Every time they should place a bet with the goal in mind. The Labouchère System is also called the cancellation system and can be illustrated this way: If the player wants to win 100 rupees, they are supposed to break this amount into smaller units. They can place the value of a unit at 10 rupees.
This means you have to win 10 units to reach the target. After coming up with the number of units, you break the numbers in a sequence. The numbers in the sequence must add up to 10. The sequence should be: 2 1 2 2 3.
To determine the size of the bet, you add the first and last numbers in the sequence then multiply them by the value of a unit. The total value in the sequence is 5. When you multiply it with the value of a unit (10 rupees), you get a bet of 50 rupees.
If the bet wins, you progress to the remaining first and last numbers in the sequence, that is, 1 and 2. This will bring (1+2=3). If this bet is lost, you take the total value (3 in this case) and put it as the last number in the sequence. The sequence will read; 1 2 2 3.
In the next spin, you will place a bet equivalent to the sum of the first and last numbers multiplied by the size of a unit. Therefore, you will be required to place a bet of (1+3)10= 40 Rupees. The Labouchère system is completed once you cancel/wipe off the whole line.
This means that you need to place a certain number of bets to guarantee a win. This could lead to massive losses when a win is not forthcoming hence the need to set a spending limit to curtail the losses.
What Works:
No constants wins required
Less severe than Martingale System
Change in bet size is gradual
What Doesn't:
You never know when you might land a winning streak
Numbers that require adding will gradually increase every time
Not suitable if you fail to keep track of your funds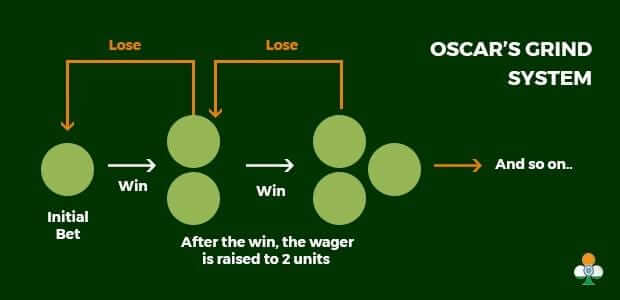 Oscar's Grind System
Players looking to get high profits use the Oscar's Grind System. This strategy uses an even-money wager such as high/low (1st 18 and 2nd 18), red/black and odd/even.
The player first chooses a bankroll they intent on risking, then get enough chips to enable them to make the wagers without missing a spin. The Roulette system applies the La Partage rule on the single-zero to reduce the House Edge.
In Oscar's Grind, the wagers always start at zero. They remain constant until you get a loss and a win. After this, the bet increases to 2.
If the bet makes a profit, the wager might return to 1 or increase to 3. This system aims at increasing the profit by a single unit with every string of wagers.
Here is a simple illustration of how Oscar's Grind works using 100 units. Bet one unit and win: You gain 1 unit and keep wagering 1 unit. Bet one unit and lose: You keep wagering 1 unit until you win.
After the win, the wager is raised to 2 units. As you keep on betting, at some point, a profit of +1 will be realized. This will mark the end of the string, and a new one will be started.
What Works:
Less risky, more reliable
Stake amount is constant
You get to play for longer time
Placing huge bets can be avoided
What Doesn't:
The length of each progression is uncertain
Reaching the table limits prior to turning a profit is next to impossible
Depends on winning streaks to make up for previous losses