243 WAYS SLOTS FROM NETENT
Chances are you've played a NetEnt slot and you've loved it. Well, that's to be expected because NetEnt has cemented its spot in the gambling industry as a reliable and creative software developer. Take a look at these slot games from NetEnt.
Best 243 Ways Video Slots from NetEnt
---

The 243 ways gaming mechanic is a revolutionary system that developers came up with to counter the frustrations players met when activating paylines. In this new system, players bet on the spin and not on individual paylines. This activates all winning ways.
NetEnt has been and still is one of the leading software developers for online casinos around the world. In terms of 243 ways to win video slots, you can bet that they have the best in store waiting for you. In this post, we'll dive into the best 243 Ways Video slots from NetEnt.

Based on the iconic hit TV series, Vikings comes to life courtesy of NetEnt and it offers quite a lot of features. Starting you off are the up to 7 reels with 243 to 78,125 ways to win.
The Hotspot feature stands out where you'll join other Vikings such as Ragnar, Lagertha, Bjorn or Floki who'll actually trigger the feature. You'll win up to 243 your stake when you land at least 3 symbols. Other features include the Shield Wall feature and the Raid Spins feature where you can win up to 10,000 times your bet! Yes, you read that right, so get your armor and prepare for a battle of wins.

If you haven't watched Narcos by now, you need prayers! This addictive Netflix series depicts the life of the most powerful drug lord to walk this earth – the don himself, Pablo Escobar. A simple glance at the graphics and storyline immediately shows you how much effort NetEnt put into this slot.
Start moving weight on the 5 reels and 243 winning ways. Just make sure you don't get caught by the active DEA agents (Javier Pena and Steve Murphy). Speaking of the DEA, look out for the Walking Wild feature with the DEA badge acting as the wild symbol.
Other exciting features include the Drive-by feature, Free Spins feature, and the most exciting of them all – the Locked Up feature. Whose side are you on?

You love adventure and treasure hunting? NetEnt loves this too, which is why they decided to bring you Temple Nudge. In this slot, you'll go back in time to explore the magnificent Aztec Empire. Now, don't get too excited yet. There are a lot of enemies in the forest ready to protect their space. The game is played on 5 reels and 243 ways to win with numerous symbols at hand to help you form winning combos. In fact, when you form a winning combo, you'll activate the Nudge feature where the reels collapse a position down to increase your winning chances. The unique features garnished with the 243 winning ways mechanics will offer you a buffet of wins. All you have to do is give the reels a nudge.

Have you been to Vegas? Don't feel sad that you haven't because NetEnt is prepared to bring Sin City straight your device through Twin Spin slot. This slot comes with unique features and with the 243 ways to win, players will get a chance to walk away with whopping 270,000 coins in jackpot prize. You'll also get a chance to play the Twin Spin feature where two adjacent reels will join and freeze once matching symbols appear. With this, players will form combinations of up to 5 symbols, thus increasing their payouts. For those gamblers that relish the Vegas action, Twin Spin is the ultimate slot game.

As you may have already suspected, Twin Spin Deluxe is a sequel to the original Twin Spin slot game. NetEnt is still the brains behind this futuristic-looking game but there's one unique factor about it. This game is exclusive to Unibet Casino. Talk about going above and beyond for their customers! The most exciting bit about this amazing slot is the Twin Reel feature. It works in the same way as in the original. Each spin will start with the same adjoining reels linked together. The reels will then expand and cover up to 6 adjacent reels to display the same symbols. This means you can walk away with up to 1,000 times your bet.

Twin Happiness from NetEnt spices things up with a bit of Asian flavor in this slot that closely mirrors Twin Spin and Twin Spin Deluxe. The stage is set with 5 reels and 243 winning ways but you'll want to activate the Twin Reel feature for lucrative wins. In this feature, each spin will start with two adjoining reels linked together to display the same symbol. These two reels can then expand to up to 6 reels, all showing the same symbols. Now, this will see you pocket a smashing 1,080 times your bet if you land the highest paying symbol (the ingot).

Are you a gladiator fan? If you aren't, you may want to steer clear from this NetEnt production. Victorious slot draws inspiration from the gladiators of the Roman times to bring you electric gameplay. Kicking things off, you'll have 5 reels and 243 winnings ways to line your pockets with goodies. Afterward, you'll need lady luck to land 3 Golden Wreath symbols on the reels to activate the Free Spins feature. This is where the battle begins. You'll meet gladiators in a battlefield ready to wipe out their sworn enemies. Before you start this feature, you'll receive up to 50 times your bet based on the scatters that activate the feature. So, what's it going to be? Are you ready to join the gladiators and emerge victorious?

8. Jungle Spirit: Call of the Wild
---
Do you hear that? That's the sound of the jungle calling you to explore it in an adventurous slot game Jungle Spirit: Call of the Wild powered by NetEnt. This slot comes with 5 reels and 243 winning ways and host of mouthwatering features that'll leave you begging for more. Opening the stage is the Symbol Expansion feature where each symbol bar the scatter will be highlighted by butterflies. Should the symbols contribute to a winning combo, that reel will expand. Other features include the Butterfly Boost feature activated at random in the main game. Finally, you have the Free Spins where you'll play with 1,024 winning ways. There's a good chance of walking away with a staggering 7,678 times your bet. All you have to do is to answer the call of the wild.

It's an invasion but nothing too weird. If anything, your pockets are the beneficiaries here. Alien Robots is the slot's title and is powered by NetEnt and it comes with 5 reels and 243 winning ways. Now comes the exciting part. The game's features. Starting off is the Sticky Wild feature where the wild will expand to fill the entire reel while the remaining reels continue spinning to increase your chances of forming a winning combo. That's not all because you also have the Free Spins feature where you have a chance to pocket a cool 50,000 coins jackpot prize. If you're ready, ignite the spacecraft and head into space for a chance to explore more wins with the alien robots.
Conclusion
---
There you go. A list of the best 243 ways video slots from NetEnt. More ways to win can only mean more money in your pocket, so the question is, "which slot are you going to choose?" The coins are in your pocket. Oh! Just before, we close out, you may want to try out Narcos! It'll have you addicted!

Chaya
Head of Content
The wordsmith of the group, Chaya is busy enjoying her newfound passion for online betting. When she's happy, she would bet the ranch to plan and create killer content – the ones that urge you to place a bet. If things don't go the way she wants them to, she would constantly act like the world is about to end. We love how she can never decide between Kohli and Dhoni.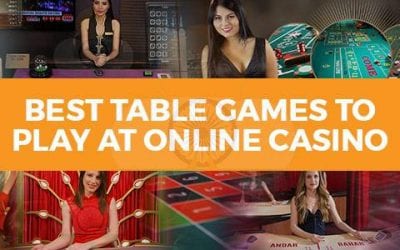 Casinos without table games are not casinos enough. Blackjack, Roulette, Baccarat, Poker and all those popular variants are what give these gambling establishments their iconic glamor. Let's get started with the best casino table games online.
Welcome offer: 100% Up to ₹60,000 | on Live Casino
Casino of the Month
100% Up to ₹60,000