TOP 10 BATMAN THEMED SLOTS FOR FANS OF JOKER
The new Joker movie is out now in India and we can't keep calm! Todd Phillips' flick is a masterpiece and Joaquin Phoenix's performance is Oscar-worthy. But, what's next? How do we deal with the post movie withdrawal symptoms? How do we get over the wild excitement around this harmless nonconformist turned sadistic Batman supervillain? The only drug we know are some incredible Batman themed slot games we can play to stay sane. Brace yourself! The chaos of Gotham City is storming into your screen! Is it just us, or is it getting crazier out there?
10 Best Batman Slots to Play if you're Reeling from the New Joker Movie
---

The casino market online is super dynamic. Games come and games go with many of them drawing from the popularity of successful people, books, movies, and TV shows. The goal is turbocharged marketability and extraordinary competitiveness to win audiences. One such series is the Batman movie franchise that never seems to get old.
Today, a motley crew of Batman slots brim in online casinos and are played with hysterical frenzy. And, now that a new Joker movie has hit the theaters, this rage seems to have heightened! To keep up the excitement, we bring you 10 best online slot games you can play to revisit the heated Batman vs. Joker rivalry. Here we go!
An online slot powered by Playtech, The Dark Knight is set in the dark heart of Gotham City. An absolutely action-packed slot game, this one pays both ways!
As you guard the city against the infamous anarchist, locking Batmans and swimming Jokers join in. Unlimited respins add up to the chaos as you fly to grab progressive jackpots amounting up to over a million bucks.
Feast your eyes and swell your pockets. With a gameplay that is sleek and engaging, Playtech has really gone to town and how! Way better than Microgaming!

The Dark Knight Rises is another progressive jackpot slot from Playtech continuing the glory of The Dark Knight, its former spectacle.
Land the random jackpots as you battle it out against Bane alongside Batman and Commissioner Gordon. There's the Fire Rises feature that gives a multiplier combination of a whopping 25x.
And then, there's the Fusion Reactor Bonus feature that showers you with Free Spins. The slot is also reminiscent of DC Comics cinematic properties and offers a grand jackpot of over £200,000. Gotham City needs you yet again. Go, save it!

3. Batman & The Joker Jewels
---
Here comes the clown prince of crime! Staying loyal to its love for Batman, Playtech strikes again with another superhero slot game.
Batman & the Joker Jewels features the Batman and the Joker and raising a dust. Robin flies past and makes this slot more thrilling.
Get a taste of kitsch from the 60s as you swing along the intro beats and enter a gaudy screen in pink and purple.
The Joker isn't as bad as he seems! Whenever he pops up, 9 wilds land anywhere on the reels. You'd love him until he decides to have the last laugh. Play safe!

4. Batman & Catwoman Cash
---
Playtech is slaying it with batman themed online slot games. Here's Batman from 1960s jostling a sexy frenemy in the Batman & Catwoman Cash mobile slot.
The game is a pure delight for those who love Free Spins. There's also a Cat Burglar Bonus feature that either offers a cash prize of amplifies the multipliers for Free Spins – 25 free spins with 2x multiplier to be precise.
Further, there are super stacked symbols and a cash bonus or 2x multiplier for 24 spins as you end the base game. Push a little harder and aim for the jackpot, too!

5. Batman & The Batgirl Bonanza
---
When we came up with this listicle, we didn't realize this is going to be all about Playtech slots.
Anyway, Batman & the Batgirl Bonanza is yet another video slot that reminds us of the 1960s TV series. The graphics are superb and there's…wait for it…REAL FOOTAGE in this game!
The best part in this DC superhero game is the progressive jackpots that can be triggered on any spin randomly irrespective of the bet size. Batman & the Batgirl Bonanza slot is best played for longer sessions.
So, prepare your bankroll before you put in real money.

Finally, we get to talk about a Batman slot game created by a game provider other than Playtech.
Here's a take on the superhero theme by NextGen Gaming and it's grey with symbols of batmobile, batcycle, and the Joker playing card in colors.
There's Gotham City at the backdrop with The Joker and Commissioner Gordon leading the way.
And, hey! Don't hate that crazy jester of jackanapes. He might seem like the villain. However, he is the one that carries the jackpot – a max payout of 2000 coins.

7. Batman vs. Superman: Dawn of Justice
---
Playtech does it again! It delivers yet another Batman video slot game that's beyond impressive.
Join an ultimate Metropolis jostle between the Caped Crusader and the Man of Steel in Batman vs. Superman: Dawn of Justice.
The graphics have been done extremely well and are eye-catching. An action packed slot game, this one come with superhero-esque features and bonuses.
In fact, the game bursts with rewards. There are 4 progressive jackpots that could magnify winnings. There's also a Turbo Mode that would spin the reels faster for you.

8. Batman & The Riddler Riches
---
We're referring to Playtech so much we don't think we need to mention this Batman slot yet another creation from the game provider.
Batman & The Riddler Riches is a cascading reels style slot game where multiple waves of collapsing symbols land on the reels to create winning streaks.
This slot is packed with bonus features and the DC Comics Super Heroes progressive jackpot. A thin purple frame is fixed against a green backdrop that brims with the criminal mastermind's Riddler's questions.
The Riddler is smarter than everyone else he believes. Can you outwit him?

9. Batman & Mr. Freeze Fortune
---
Wondering who's the creator? Playtech. Again.
Batman & Mr. Freeze Fortune comes with Batman, Robin, and the creepy cryogenic supervillain Mr. Freeze. The symbols appear either as single or high stacked. Further there's an All-Ways feature active at all times.
Use it to collect your winnings in 1024 directions during the base game and 2400 ways during free games.
Land anywhere between 10-15 Free Spins. Look out for Wilds and Multipliers. Win the 4-level thematic progressive jackpot and rake in the moolah!

10. Batman & The Penguin Prize
---
We're concluding this listicle with yet another Playtech Batman slot.
Batman & The Penguin Prize features The Penguin – the Gentleman of Crime! This rather purply slot reminds us of the 1960s comical cheese of a series one more time.
The aura is retro and comes with the symbols Batman, Robin, Penguin, and Clancy O'Hara, the police chief. There's also the Penguin's hat, umbrella, and even the Batarang.
The Batman logo is the Wild and you can trigger the Penguin Respins feature to save yourself from the King of Gotham.
Why So Serious?
---
If you don't want to wager real money, you can always play Batman slots for free. Superhero slots are not always this impressive. But, the Batman franchise has a certain enigma to it which is hard to miss. After all, you could just clown around and kill it with big a win. Go for it!

Chaya
Head of Content
The wordsmith of the group, Chaya is busy enjoying her newfound passion for online betting. When she's happy, she would bet the ranch to plan and create killer content – the ones that urge you to place a bet. If things don't go the way she wants them to, she would constantly act like the world is about to end. We love how she can never decide between Kohli and Dhoni.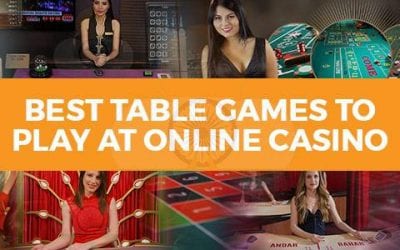 Casinos without table games are not casinos enough. Blackjack, Roulette, Baccarat, Poker and all those popular variants are what give these gambling establishments their iconic glamor. Let's get started with the best casino table games online.

Welcome offer: 100% Up to ₹60,000 | on Live Casino

Casino of the Month
100% Up to ₹60,000