WPT COMES TO GOA
World Poker Tournament will be heading to Goa, India this October with a full week of fun, poker and big winnings! Do you want to be there for the mega gala? Read all you need to know about the contest in this detailed article and prepare for it.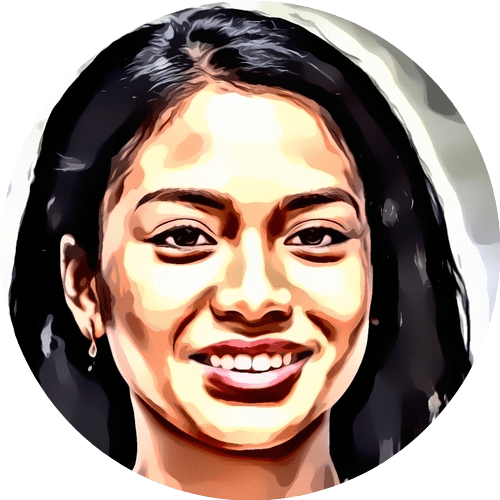 World Poker Tournament India 2019 coming to Goa from 15th to 21st October
WPT India returns to Goa for the third time! An extravaganza awaits you from October 15 to 21 at Deltin Royale Casino Goa. Last season attracted 697 entries – a roaring Asian tour record! Season 18 is going to get super grander. Buy-In: INR 55K.
The 2019 season of World Poker Tour (WPT) India is coming to Goa from 15th to 21st October at Deltin Royale, the largest floating casino in the state.
WPT India had its premier edition in November 2017 at the same venue over River Mandovi in Panjim. The WPT Deepstacks Series was hosted and the season powered by Adda52, its official Indian partner.
The poker tour featured more than 1500 entries across 8 events with 527 entries from WPT India Main Event and witnessed Vikash Mantri, the champion, take home a whopping INR 60,30,000 for his unbelievable victory.
In 2018, the second season was held between 13th and 19th November in Goa yet again. This poker event made groundbreaking records of over 1800 entries across 8 live tournaments. The event witnessed Nikunj Jhunjhunwala, the high-stakes cash game player, smashing the record 697-entry field and Sahil Mahboobani going home with INR 66.35 Lac!
Season three awaits the punters! After all, money won is sweeter than money earned, and sweetest when it's a game of poker.
WPT India 2019 Schedule
The third season of WPT India is a great tournament to look forward to. The festival runs from 15th October through 21st October at the usual venue, Deltin Royale in Goa featuring 8 events with the same buy-ins across all the proposed tournaments.
On 15th October, the series starts with the INR 20,000 buy-in Kickoff NLH and runs for two days and it will feature 15,000 starting stack and 30-minute levels. The event is proposed to start an hour earlier at 4 PM.
The next tournament is the INR 35,000 buy-in SuperStack, another 2-day event that starts on 16th October. It will feature 35,000 starting stack and 30-minute levels. 17th October comes with another 2-day event, the INR 25,000 buy-in Big Bounty featuring 1-re-entry. It showcases the 20,000 starting stack and 30-minute levels.
The headline of the series remains the INR 55K buy-in Main Event which rolls off with the first of its three starting flights at 3 PM on 18th October. While the next two flights, that is, the Day 1B and Day 1C begin on 19th October.
Day 1A and Day 1B come with 30,000 starting stack and 40-minute levels each, while Day 1C features 20-minutes levels. Second to the main headline of the tournament is another 2-day event, INR 100,000 buy-in High Roller that starts on 20th October at 7 PM.
The Main Event and High Roller continue till 21st October where a champion will emerge and it is played alongside the 20,000 buy-in Megastack, the last event of the series.
WPT India 2019 International Players Special Deal
The WPT India third season features a special deal for international players, which includes:
Deltin Suites Room Nightly Rate of INR3,500 plus taxes, single or twin
Complimentary Airport and Boat transfers
Complimentary Buffet Breakfast
Complimentary 30 minute massage at the Deltin Suites Spa
No rake on the 1st main event entry at any two of the next four scheduled Season 18 Asia Pacific events – WPT Cambodia, WPT Philippines, and WPT Vietnam & WPT Taiwan (applies to first main event entry only).
However, for international players to receive these benefits, they must play the WPT Indian Main Event and also provide proof of flight(s) into India for the event.
A Sneak Peek into the WPT India Schedule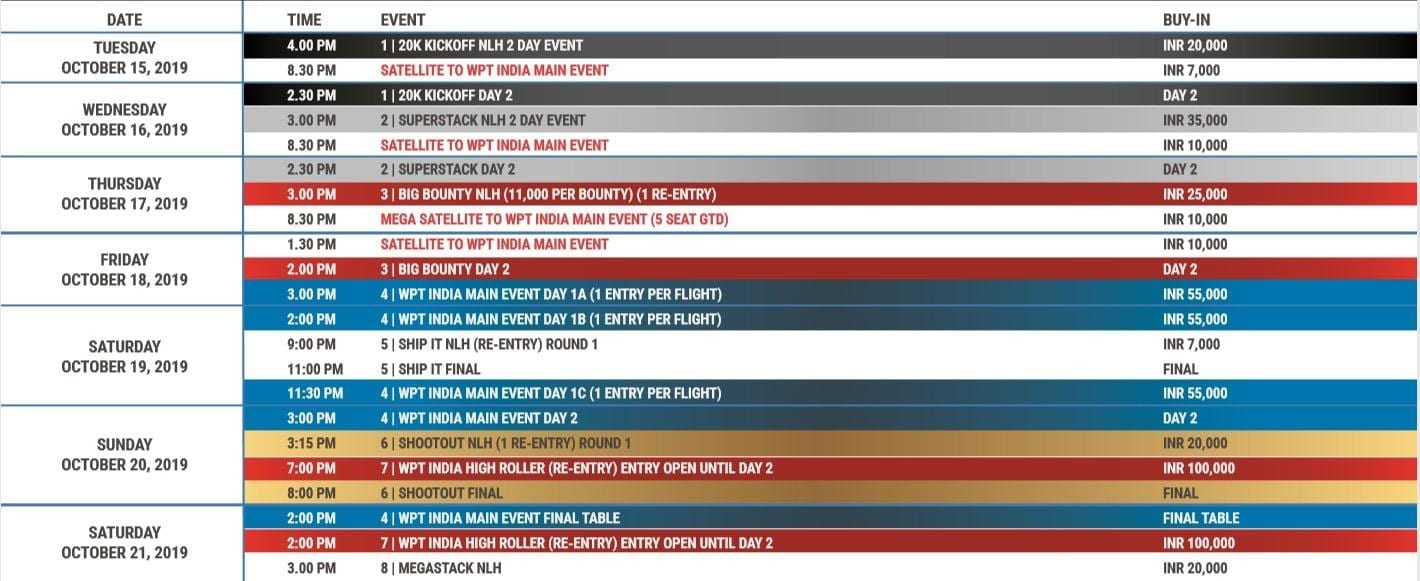 The Schedule and Structure with Rules and Information
Schedule & Structure
DATE
TIME
Day 1a
Friday, October 18
3:00 PM
Day 1b
Saturday, October 19
2:00 PM
Day 1c
Saturday, October 19
11:30 PM
Day 2
Sunday, October 20
3:00 PM
Final Table
Monday, October 21
2:00 PM
ANTE
SMALL BLIND
BIG BLIND
Level 1
–
100
100
Level 2
–
100
200
Level 3
100
100
200
Level 4
200
100
200
Level 5
300
200
300
Level 6
400
200
400
Level 7
500
300
500
Level 8
600
300
600
Level 9
800
400
800
LATE REGISTRATION
Level 10
1000
500
1,000
Level 11
1,200
600
1,200
Level 12
1,600
800
1,600
Level 13
2,000
1,000
2,000
END DAY 1
Level 14
2,500
1,500
2,500
Level 15
3,000
1,500
3,000
Level 16
4,000
2,000
4,000
Level 17
5,000
3,000
5,000
Level 18
6,000
3,000
6,000
Level 19
8,000
4,000
8,000
Level 20
10,000
5,000
10,000
Level 21
12,000
6,000
12,000
Level 22
15,000
10,000
15,000
Level 23
20,000
10,000
20,000
Level 24
25,000
15,000
25,000
Level 25
30,000
15,000
30,000
Level 26
40,000
20,000
40,000
Level 27
50,000
25,000
50,000
Level 28
60,000
30,000
60,000
Level 29
80,000
40,000
80,000
Level 30
100,000
50,000
100,000
Level 31
125,000
75,000
125,000
Level 32
150,000
75,000
150,000
Level 33
200,000
100,000
200,000
Level 34
250,000
125,000
250,000
Rules & Information
ANTE FORMAT: Single ante will be posted by the player in the big blind, in the amount equivalent to the big blind. Ante is posted before the big blind and players are eligible to collect the entire ante, even when out of the big blind. Ante is maintained until the completion of the tournament.
BREAKS: All breaks will be 10 minutes. Note: A dinner break may be scheduled on Day 2.
BUY-IN & FEES: INR 52,800 (buy-in) + INR 2,200 (entry fee) = INR 55,000.  INR 1,056 will be held as staff fee.
LEVELS PER DAY: Day 1: Thirteen 40-minute levels ending approximately at 12:20am on Day 1a, 11:10pm on Day 1b and thirteen 20-minute levels ending at 3:50am on Day 1c. Day 2: 40-minute levels until we reach final table.
PLAYER RELEASE: In order to play in the event, each player must sign the WPT Player Release Form.
PLAYERS PER TABLE: Play will move to 9-handed as soon as possible.
REENTRY RULES: One entry is available each Day 1 until the start of level 10.
REGISTRATION: Available from 2pm for Day 1a, 1pm for Day 1b and 8.30pm for Day 1c.
LATE REGISTRATION: Registration closes start of level 10 approximately 9:30pm on Day 1a and 8:20pm on Day 1b and 2.40am on Day 1c.
SEATING REDRAWS: There will be a full seating redraw prior to Day 2, at 3 tables and for the final table.
STARTING STACK: 30,000 tournament chips. Late registrants and alternates will be sold a full starting stack.
PAYOUTS: 1 in 8 will be in the money.
Recommended casinos