POKER SPORT LEAGUE SEASON 3
One of the most beloved poker tournaments Poker Sports League will have it's third season staring in November. Learn all you need to know about the tournament in the article below.

Poker Sports League Season 3 is all Set to Launch in November
---
10 Participating Teams
110 Participating Players
100+ Free Qualifiers
4+ Crore Prize Pool
Poker Sports League Season 3 is coming up with a whopping ₹4 crore prize money! The advent was recently announced by the promoter and founder of Poker Premier League, Mr. Amit Burman and CEO and Co-founder, Mr. Pranav Bagai.
The event starts from 18th November 2019 and continues till February 2020. PSL Season 3 is powered by Adda52 and scheduled to be held across New Delhi, Mumbai, Bangalore, and Kolkata. Registrations are on till January 5th, 2020! Entry is FREE!
PSL was initially launched in India in the year 2016 to encourage
poker
enthusiasts around the world to participate and win huge with no risk at all. This is the first-ever poker league in the world that truly focuses on the skill and technique of winning the poker game.
PSL is a great opportunity for amateurs and skilful players to unite as a team and learn the defining techniques. With intelligence and wit, players will qualify several rounds and eventually the final winning team will be crowned as the best Poker Team.
Having Viswanathan Anand as the Brand Ambassador of PSL, the committee is emphasizing on promoting poker game in India and encouraging sharp minds to indulge in the competition. After receiving grand success in the Season 1 and Season 2, PSL is preparing for Season 3. Considering immense positive responses in the previous two seasons, promoter and founder of Poker Sports League, Mr. Amit Burman has decided to invest more than 2 million dollars to level up the prize scale.
Poker Sports League received great response and recognition with its unique audition format. The players initially compete online to qualify the place and once they succeed, they are divided into teams to further compete for the final round. Also, offline audition will take place in the major cities of India – Mumbai, Delhi, Kolkata and Bangalore. The 10 teams will be formed to compete for the several rounds and the finals will take place in Kolkata in 2020.
Poker Sports League is an uncommon platform where amateur plays along with the professionals alike. Players can register for Season 3 as:
Qualifiers – Online and on-ground. Online Qualifiers are for poker enthusiasts who are unable to travel to the on-ground qualifiers of PSL. 72 online gamers are permitted to play max 18. 40% players would receive leaderboard points, of which, the top players would be rewarded with a spot in the draft of the Online Qualifiers.
On-ground Qualifiers (live poker event), on the other hand, are for new players who wish to be a part of the team. 24 On-ground Qualifiers would be held at premier locations. Players would be permitted to play max 6. 40% players would receive leaderboard points, of which, the top players would win a spot in the draft of the On-ground Qualifiers.
Pros – the Marquee players who are responsible to upskill their teams and provide them with tactical edge for fine game execution. To be a pro player, you'd need 2 years of experience as a professional poker player and be active for at least a year with 800 tournaments online or 40 live, 500 tournaments if doing both. Should you meet these criteria, drop your application at

[email protected]

.
Mentors – the captains and in-game leaders in poker who are responsible for team leadership and enabling a strategic edge. They are the ones who make the key decisions for their teams and assign the members to roles. To be a mentor at PSL, you would need 5 years of experience as a professional poker player and have a demonstrated history of leadership experience.
You must be well spoken, confident, and active on 500+ tournaments online for a year. To qualify as a mentor, you also need to have played a minimum of 3000 tournaments in the last 5 years and have a minimum of 10 ITM's in International fields. Should you meet these criteria, drop your application at [email protected].
Here's the Schedule
Registration: 1st October 2019 – 5th Jan 2020 (Location – Pan India)
Qualifiers: 18th November 2019 – 5th February 2020
Leaderboard: 12th February 2020
Player Interviews: 13th February 2020 – 28th February 2020
Selection Ceremony: 1st March 2020
If you're a poker lover in India, here's your chance to duke it out!

Chaya
Head of Content
The wordsmith of the group, Chaya is busy enjoying her newfound passion for online casino games. When she's happy, she would bet the ranch to plan and create killer casino content – the ones that urge you to play. If things don't go the way she wants them to, she would constantly act like the world is about to end. Except Vegas. That's where she plans to be.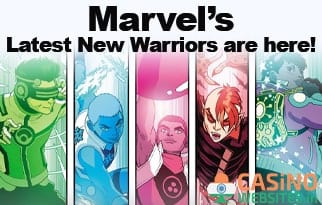 The old superheroes have gone into hiding. The 'new' New Warriors have now been placed in the rather funny crosshairs. Their badassery is what woke audience loves. Could we hope to see Marvel's latest underage saviors turn into slot games soon?