WHAT IS BLACKJACK SOFT 17 RULE?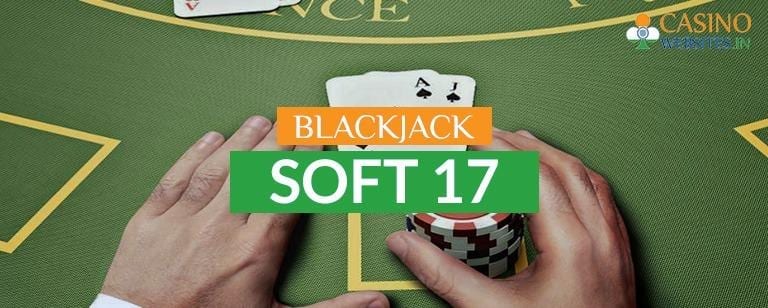 What is Soft 17 in a game of Blackjack? Should you hit or stand when you reach it? What about the dealer? What is the Rule for him? Watch all your queries get answered as we teach you how to play and react to a Soft 17 in Blackjack in this article.
What is a Soft 17 in Blackjack?
---
The game of blackjack is becoming more and more popular in gambling venues across India. Millions of players are trying to reach the magical number 21, i.e. to beat the dealer and leave the casino with a big bag of rupees. The same can be said about the online gambling market, and online blackjack in India is growing in popularity with each passing day.
Even so, not all players have the necessary knowledge to 'rob' the casino of a few rupees. In other words, it is crucial to know the rules of blackjack if you want to win. And, the so-called soft 17 rule is one of the essential elements of the game.
Yes, you've probably heard the term 'soft hands in blackjack'. But, do you understand what this concept entails?
Don't worry, our comprehensive guide will tell you all there is to know about soft 17 vs hard 17 hands. That is, you will learn what is a soft 17 and how you can use this rule to your advantage. Therefore, let's dive deeper into the basics of online blackjack.
The Basic Rules of Blackjack
---
However, before we get into the nooks and crannies of online blackjack, let us remember the basic concept of the game. In a nutshell, the goal of blackjack is to reach the almighty number 21.
Or, you should get as close to this number as possible, without going over it. If the total of your cards goes over 21, your hand will bust and you will lose the money. Of course, the dealer also has a say in a hand of blackjack.
In short, you have to beat the dealer's hand as well. In case you have the same total as the dealer, the hand may end up in a draw or a 'push'.
To be clear, this oversimplified explanation of blackjack rules is just a quick overview. Needless to say, the best online casinos in India can provide you with many opportunities for playing blackjack. By visiting some of those sites, you can get the first-hand experience on the mechanics of playing online blackjack.
Card values
Before you start playing, it is also important to understand the value of the cards in this game. For instance, the cards from 2 through 9 have their face value. Thus, five counts as five, and so on. On the other hand, cards from 10 through K are all worth 10. So, a Q does not have a value of 13. No, this card is also counted as 10.
The value of the Ace card
Last but not least, the value of the Ace is also important in a game of blackjack. Moreover, Ace is one of the main elements of the gameplay. The reason for this comes from the fact that Ace can be counted as a 1 or 11, depending on the situation.
With that being said, the way in which we assign value to the Ace card has a direct impact on soft or hard hands. So, here is how you can recognize the soft 17 hands when playing blackjack in an online casino in India.
What is a Soft 17?
---
Finally, we arrive at the actual topic of this guide. So, soft hands in blackjack are the ones that contain an Ace counted as 11. If the Ace has a value of 1, the hand is not soft. For example, the combination of an Ace and a six is called the soft 17. Likewise, the total of 11+7 is a soft 18, 11+8 is a soft 19, etc.
On top of that, soft 17 can also appear in the three-card form. For instance, your hand may consist of an Ace+2+4. Either way, the total of the cards in the hand must be 17, and the Ace must be counted as 11. When the hand does not come with an Ace, we call it a hard hand. For instance, a hard 17 is a combination of 10+7 or 8+9.
But, why is the soft 17 so important? Why should you pay attention to this concept when playing blackjack in an Indian online casino? Here is why.
How to Play the Soft 17?
---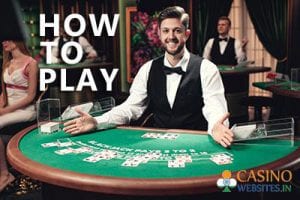 Well, the soft 17 is a hand that causes the most headaches to novice blackjack players. In most cases, experienced and skilled players have no problems with solving the puzzle that is the soft 17. In a way, top blackjack players rely on a simple mantra:
Never stand on a soft 17!
In essence, this simple rule is the most important thing you should remember from reading this article. Millions of players across the globe decide to stand on soft 17, i.e. they do not want to receive the third card nor they take any other action.
As a result, these players are wasting away thousands, if not millions of rupees. To avoid such a scenario, here is what you should do.
Hit on soft 17
One of the options for playing the soft 17 hands is to hit. In blackjack, this means that you will receive another card, which should get you closer to 21. By taking the third card, you will boost your odds of winning. If you decide to stand on soft 17, it is almost certain that the dealer will beat your hand.
Yet, there are moments when you should not hit. That is, you should take another approach. For that reason, here are the situations in which you should ask for the third card:
When the dealer's upcard is 7 through Ace
In case we didn't mention, the upcard is the card that stands in front of the dealer and it is turned face up.
Double down
The second option for playing the soft 17 is to double down. In short, this term means that you have to place another bet next to your starting bet. The 'new' bet can not be bigger than your original bet for the particular hand. So, if you win the hand, you get paid double money. Hence the name 'double down'.
When it comes to soft 17, you should double down when the dealer is showing a so-called weak hand. To clarify, this means that the dealer's upcard is low in value. Therefore, the dealer is vulnerable and you should start the chase by doubling the money. Yet, you should double down in the following situations:
When the dealer is showing an upcard that has value 2 through 6 (3 through 6 for multi-deck blackjack)
On top of that, it is important to note that you should never double down if the dealer is showing 7 through Ace as an upcard.
Soft 17 from the Casino's Point of View
---
Since the game of blackjack is played against the casino, the dealer also has an active role in a hand. In other words, the dealer also needs to make certain calls and decisions. For instance, the decision to hit or stand on soft 17 is one that makes a lot of difference.
However, different casinos offer a different approach to the so-called soft 17 rule. What this means is that some casinos require dealers to stand on soft 17. On the other hand, some casinos require that the dealer hit on soft 17.
If you remember what we said earlier, it is always better to hit than to stand on soft 17. Well, this 'rule' applies to casinos as well. As a matter of fact, the casinos that are telling their dealers to hit on soft 17 are receiving a boost in house edge. To be precise, the soft 17 rule favors the casino and it increases the house advantage by 0.20%.
Even though this percentage may seem small, in the long run – you could lose a lot of rupees because of the difference in the house edge. Thus, we recommend that you always play blackjack in an online casino in India that does not feature the soft 17 rule. To clarify, it is best to play blackjack at a casino that tells dealers to stand on soft 17.
In addition, we recommend playing a single-deck blackjack whenever you have the opportunity. By doing so, you will have much better odds than playing a multi-deck variation of the game.
Conclusion
---
With or without the soft 17 rule, online blackjack in the top casinos in India can provide you with a lot of fun. But, if you want to win some money, it is imperative that you learn how to play a soft 17.
Moreover, blackjack is a game of tactics, and that is why basic strategy charts are worth having by your side when playing the game. At the end of the day, soft 17 is a tricky hand, truth be told. But, strategic thinking can get you out of that station and reward you with a bunch of rupees in the end.

Chaya
Head of Content
The wordsmith of the group, Chaya is busy enjoying her newfound passion for online betting. When she's happy, she would bet the ranch to plan and create killer content – the ones that urge you to place a bet. If things don't go the way she wants them to, she would constantly act like the world is about to end. We love how she can never decide between Kohli and Dhoni.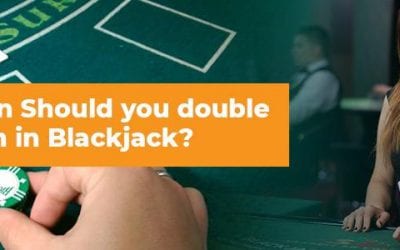 The double down option in Blackjack offers a quick way for Indian online casino players to earn bigger winnings. So, when should you take advantage of this option? We have put together a complete guide on when you should double down in Blackjack.