SIDE BET IN BLACKJACK: GOOD OR BAD?


Side bets are a popular option in Blackjack for Indian online players, but what does side bet mean? Is it a good choice to play side bets in Blackjack? We have all the answers regarding side bets in Blackjack.
Should You Play Side Bets In Blackjack?
Blackjack is one of the most popular games in Indian casinos, no doubt about it. Even so, we all know that blackjack is not the most rewarding of casino games. In other words, it can take a lot of time to win a sizable amount of rupees playing online blackjack.
So, to boost the excitement, casino owners are trying to make the game more profitable for the players. And, that is why side bets in blackjack are available in almost all online casinos in India.
But, do you know what is the purpose of the side bets? Or, for that matter – should you even play side bets in blackjack?
Well, stick with this short guide that we here at Casino Websites have put together and you will learn all there is to know about the side wagers.
How to Place Side Wagers in Blackjack?
As their name implies, side bets are wagers that are independent of the primary bet in a hand of blackjack. As such, they are placed next to the initial wager.
Nowadays, a wide array of side wagers is available in online casinos in India. Some of those bets require that you place the wager even before the cards are dealt. Of course, it is almost impossible to predict the outcome of the next draw. And, that is also the reason why side bets are offering such high payouts.
To clarify, since it is very hard to guess the next card, players are offered a great reward if they manage to predict the outcome. In some cases, the payout ratio goes all the way up to stunning 5.000:1!
Why are Side Bets so Attractive in Blackjack?
---
In a way, the main purpose of side bets in blackjack is to entice and attract the players. With the help of sweet-talking personnel, casino goers are often lured into the trap. Indeed, the innocent-looking side bets are an exciting proposition. And, that is why millions of players are placing these wagers.
On top of that, side bets require a small stake. So, you can win thousands of rupees even if you invest just a couple of them. In essence, this is the 'secret of success' when it comes to side bets.
Even so, are these wagers a good betting option? Before we answer that, let us take a quick look at the most prominent types of side bets in Indian online casinos.
Important Types of Side Bets
---
As we said, blackjack lovers in India can place their hard-earned rupees on all sorts of side bets. However, several types of side wagers are popular worldwide. In a way, these wagering options have stood the test of time and they are available at casino venues across the globe.
So, the most popular side bets in online casinos in India are:
Perfect Pairs
Insurance
21+3
All of these side wagers are offering high payoffs. At the same time, these bets entail a great amount of risk. To be precise, some of them come with as much as 10% house edge! Yet, certain side wagers are even riskier, and they come with a house advantage of up to 17%!
Some of those side bets are:
Lucky Ladies
Super Sevens

Over/Under 13
Should you Play Blackjack Side Bets at an Online Casino in India?
---
So, we now come to the big question – are side bets a good betting option? The short answer would be – no, they are not. Of course, we will explain the reasons why you should steer clear of side wagers in blackjack.
For instance, we mentioned that the side bets often have a house edge that exceeds 10%. Well, compare that to 0.5%, which is the usual house advantage when playing online blackjack. In conclusion, such a high casino advantage will only result in profits for the casino.
Since side bets rely on luck rather than skill, it is clear that you will be putting your money at unnecessary risk by playing these wagers. Instead, your precious rupees would serve a better purpose if you play wagers that have decent odds of yielding a profit.
To the honest, side bets can be a good option only if you are a master in card counting. Needless to say, this is easier said than done. However, if you develop an advanced card counting skill, you could tip the odds and predict the outcome of the upcoming draw in the game of blackjack.
Summary
---
More often than not, side bets in blackjack will result in losses and disappointment. Even though these wagers do not require a high stake, you could lose a lot of rupees over time. In short, side bets are a great way to spice up a game of blackjack, and you should treat them as such. By doing so, your playing sessions at Indian online casinos will be profitable and enjoyable at the same time.

Chaya
Head of Content
The wordsmith of the group, Chaya is busy enjoying her newfound passion for online betting. When she's happy, she would bet the ranch to plan and create killer content – the ones that urge you to place a bet. If things don't go the way she wants them to, she would constantly act like the world is about to end. We love how she can never decide between Kohli and Dhoni.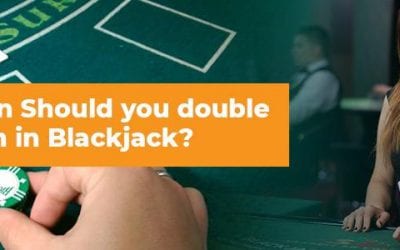 The double down option in Blackjack offers a quick way for Indian online casino players to earn bigger winnings. So, when should you take advantage of this option? We have put together a complete guide on when you should double down in Blackjack.