SHOULD YOU SPLIT 10S IN BLACKJACK?


What should you do when you get two 10s in a game of Blackjack? Should you stand, hit, or split them? To make it easier for Indian online casino players, we have put together this complete guide regarding how to play at two 10s in Blackjack.
Should You Split 10s?
Even though most Indian players are well-versed in the rules of online blackjack, certain elements of the game can cause a dilemma. For instance, casino-goers who visit some of the best online casinos in India are sometimes asking should they split 10s in blackjack.
Do you know the answer to this question? If not, or you are unsure of the proper betting strategy in this instance, stick with our guide. The answer is coming right up. Once you know if you should split 10s, you will increase the odds of earning more rupees when playing blackjack.
What Does It Mean To Split A Pair In Blackjack?
Blackjack is a game of chance that offers a wide array of betting options. One of those available tactics is splitting, and players can make this move when they have two cards of the same rank. For example, you can split a pair of 5s, a pair of 8s, and so on.
In essence, 'to split' means to separate the pair into two independent hands. Also, players who want to split a pair need to place one more wager identical to the original stake. Moreover, some Indian casinos will allow to re-split the hands. To clarify, you can split the 'new' hand further down, up to a maximum of three or four hands.
Money-wise, splitting means that you will risk twice as much. Of course, you could win twice as much as well. Thus, this betting decision boosts the excitement levels of the game. However, you should always be careful with your hard-earned rupees. To avoid playing on a hunch, here is what the experts say about splitting a pair of 10s.
Should You Split 10s In Blackjack?
In a single deck, there are 16 ten-value cards (10, J, Q, and K – four of each). So, if you already got two of them, what do you think are the odds of getting two more? Yes, you will need two more if you decide to split and end up with two separate 10-value hands.
So, to make a long story short here is the universal rule for such a scenario:
NEVER split a pair of 10s!
To clarify, two 10s will give you a 20, which is an excellent standing hand in blackjack. Having in mind that the average winning number in blackjack is 18.5, it is clear that 20 provides you with an advantageous position. In fact, statistics say that players who decide to stand at 20 will end up winning 85% of hands against a dealer's weak upcard.
On the other hand, players are facing a 92% chance of losing the wager if they hit. With that being said, it is hard to think of a reason why you would even try to improve on a 20. After all, hoping to land an Ace and get to 21 is pure gambling. As such, we do not recommend this move to players who are playing blackjack in online casinos in India.
Exceptions to the 'rule' of never splitting a pair of 10s
As they say – there are exceptions to every rule. Well, the same goes for splitting 10s in blackjack.
So, you should only split 10s if you have mastered the 'dark arts' of card counting. Needless to say, card counting in online blackjack makes little sense because the decks are shuffled after each hand. Either way, players who are masters of card counting can split 10s if they know that the remaining deck is loaded with 10-value cards.
Also, players should split 10s only in the last hands of a tournament play. During those moments, going 'all or nothing' could reward you with a sudden stroke of luck. Otherwise, it is best to refrain from such bold betting decisions and tactics.
Final Thoughts
To sum up, players who have a pair of 10s in their hand could go from a potentially winning hand to having two losing hands if they decide to split. Thus, it is best to stand in these instances, no matter what the dealer is showing.
By doing so, you will make the right choice. As a result, you could earn more rupees during your playing sessions at some of the top online casinos in India.

Chaya
Head of Content
The wordsmith of the group, Chaya is busy enjoying her newfound passion for online betting. When she's happy, she would bet the ranch to plan and create killer content – the ones that urge you to place a bet. If things don't go the way she wants them to, she would constantly act like the world is about to end. We love how she can never decide between Kohli and Dhoni.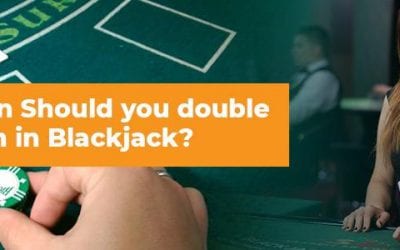 The double down option in Blackjack offers a quick way for Indian online casino players to earn bigger winnings. So, when should you take advantage of this option? We have put together a complete guide on when you should double down in Blackjack.