INSURANCE IN BLACKJACK: GOOD OR BAD?


Most online casinos allow punters to play insurance in Blackjack. So, what does insurance really mean in Blackjack? How to play it? Should you choose it every time the dealer gets an Ace? We have answers to all your questions right here in this article.
Is Insurance A Good Bet in Blackjack?
Without a doubt, online blackjack is a casino game that can provide you with a lot of fun. Moreover, the best online casinos in India can offer you a chance to win a lot of rupees as well. But, to be a successful blackjack player, it is crucial that you understand the rules of the game.
Of course, many players live under the impression that they are great at blackjack. Even so, when you ask them a question about the nooks and crannies of the game, they don't know the answer. For example, many players are not in the clear whether insurance is a good bet.
Luckily, our in-depth guide will provide you with a detailed answer to this question. But, let's see what is insurance in blackjack in the first place.
What is the role of insurance?
Some call it the necessary evil, while others refer to it as a great back-up plan. Either way, insurance is a disputed bet, no doubt about it. Of course, Indian casinos are also offering this wager. As a result, Indian casino goers are also discussing the pros and cons of taking insurance.
In essence, when you place insurance – you are betting that the dealer will have a natural blackjack. The so-called naturals are a combination of a ten-value card (10, J, Q, or K) and an Ace counted as 11. So, if the dealer has a blackjack (total of 21) in his or her hand, you will win the insurance bet.
To clarify, insurance is a side bet and this wager is independent of your main bet in a hand of blackjack. The main role of placing insurance is to prevent losses and to minimize the damage if the dealer has a strong hand. Also, it is important to note that the time window for placing insurance is limited. So, you can place this bet before the dealer flips the hole card, i.e. before you start playing the actual hand.
The basics of using insurance in an online casino in India
In most casinos, the value of insurance is set to be half of the player's wager in the hand. Some casinos allow insurance to be slightly lower. But, as a rule of thumb, your insurance bet on a 100 rupees would be 50 rupees.
When it comes to the payouts, insurance bets are paid out in a 2:1 ratio. In translation, you could win a total of 150 rupees if you place 50 rupees as an insurance bet. Clearly, this scenario looks tempting. In fact, this proposition is what fools millions of Indian players into thinking insurance is a good bet. Yet, the opposite is true. Here is why.
The pros and cons of the insurance bet
So, one of the benefits of taking insurance is that you might break even and save some money in the hand of blackjack. Also, side bets can add to the excitement of playing online blackjack in an online casino in the first place.
But, the chances of losing a lot of money by taking insurance are making this wager a so-called sucker bet. In other words, you should NEVER place insurance in an online casino!
To clarify, the odds that the dealer will have a natural blackjack are 9:4. Roughly, this amounts to 30% chance that you will win the bet. Of course, wins can happen here and there. Nonetheless, insurance comes with a negative expected value (EV) and that is why you should steer clear of this wager. After all, why would you waste your hard-earned rupees on a bet that has a 70% chance of not yielding a profit?
When it comes to statistics, the house edge on insurance bets in a single-deck blackjack is 5.8%. In the case of multi-deck blackjack, the casino has as much as 7.8% advantage. Needless to say, this means that you are sure to lose a lot of money in the long run.
Card counting and insurance
One and only exception to this sort of 'rule' of never using insurance is associated with card counting. In other words, you could only opt for insurance if you are an expert in card counting.
By mastering this skill, players can tell when there is a surplus of 10-value cards left in the deck. When such a moment comes, experience card counters can tip the odds and boost their chances of beating the casino.
Even so, online casinos are not a place for such a tactic. The reason for this is simple  – online decks are shuffled before each hand. Thus, you will not be able to count the 10-value hands.
Final thoughts on insurance in Blackjack
At the end of the day, the most important thing to know is that insurance bet is not a profitable wager. For that reason, you should avoid playing on instinct and placing this bet.
Instead, keep a cool head at all times and play by the guidelines of the basic blackjack strategy. By doing so, your sessions at online casinos in India will be profitable and enjoyable.

Chaya
Head of Content
The wordsmith of the group, Chaya is busy enjoying her newfound passion for online betting. When she's happy, she would bet the ranch to plan and create killer content – the ones that urge you to place a bet. If things don't go the way she wants them to, she would constantly act like the world is about to end. We love how she can never decide between Kohli and Dhoni.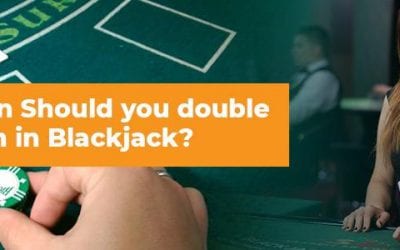 The double down option in Blackjack offers a quick way for Indian online casino players to earn bigger winnings. So, when should you take advantage of this option? We have put together a complete guide on when you should double down in Blackjack.