Arguably, the hardest hand to play in Blackjack is 16. If you've arrived at it, chances are you're asking yourself how on earth to play it properly. Fret not! This entire article is dedicated to guiding you how to play a Blackjack 16. Read on.
How To Play 16 In Blackjack
The game of blackjack is one of the most popular casino games worldwide. Needless to say, online casinos in India are offering different types of blackjack as well. As a result, millions of players are eager to try their luck with this classic game of chance.
Since blackjack is easy to learn, casino lovers from India are hoping that they could win a few rupees by playing this game online. Yet, there is more than meets the eye with online blackjack. In other words, some hands in blackjack are more challenging than others. And, such hands could drain your bankroll in a flash if you are not careful.
One such hand is the dreaded 16. According to experts, this is by far the worst hand in blackjack. With that being said, our comprehensive guide is here to help you play 16 in an online casino in India. Without further ado, let's see why 16 has such a bad reputation.
The Reasons Why 16 Is The Worst Blackjack Hand
Well, to understand why 16 is the worst hand in blackjack, we need to revisit the basics of the game. For instance, it is important to remember that the goal of each hand in blackjack is to get as close as possible to 21.
The dealer, who runs the proceedings, will provide each player with two cards. Also, he takes two cards for himself, with one of them being turned face-up.
On top of that, the players must not go over 21. If the sum of the cards in their hand exceeds 21, the players will bust, i.e. lose their wager. So, to beat the dealer, players need to hold two cards that amount as close to 21 as possible.
However, 16 is not such a number. In fact, 16 falls into a sort of' "no man's territory". Thus, this number entails a great risk of busting. In other words, there is a great chance of going over 21 if you ask for an extra card.
On the other hand, if you stand on 16, the dealer has favorable odds of beating your hand. For that reason, 16 is the hand that can cost you a lot of rupees when you play in an online casino in India.
Even so, certain guidelines can help you decide whether you should hit or stand on 16. To clarify, the basic blackjack strategy can show you the way in this situation.
How To Play Soft 16 In Blackjack
So, we start with soft 16, which is a hand that contains an Ace counted as 11. As you know, the Ace is the chameleon of blackjack. Meaning, this card can have a different value in different moments. To clarify, it can be counted as 11 or as 1.
For instance, a hand with an Ace and a five is a soft 16. When and if you receive such a combo, here are the 'rules':
Never surrender on soft 16
Never stand on soft 16
Double down on soft 16 if the dealer is showing a weak upcard (4 through 6)
In all other cases – you should hit on soft 16!
In essence, the strategy for playing a 16 soft is simple and straightforward. To sum up, you should hit in most situations. The reason for this comes from the fact that the Ace in your hand will be counted as 1 when you receive the third card. Thus, your chances of busting are slim. So, make the most of this opportunity to collect a few extra rupees when playing online blackjack.
How To Play Hard 16 In Blackjack
Unlike the soft hand, in the hard hand, the Ace is counted as 1. Or, the Ace is not present whatsoever. Some examples of a hard 16 are:
4+4+8 (16)
10+6 (16)
A+6+9 (16)
A+2+3+9+A (16)
The hard 16 can be a combination of a lot of different cards.
When it comes to the hard 16, the situation is not so great for the player. As a matter of fact, the player is a clear underdog in such a hand. The odds are stacked against you if you receive a hard 16, and that is why many players have a phobia of this hand. Unfortunately for the players, this hand is dealt quite often in a game of blackjack.
Either way, there are certain 'rules' you should follow when playing a hard 16. For instance, here is what you should do:
Stand on a hard 16 if the dealer is showing a small upcard (2 through 6)
Hit on a hard 16 if the dealer is showing a high upcard (7 through A)
If you have a three-card hard 16, stand if the dealer is showing a 10-value card
In essence, these three guidelines could save you a lot of money. Then again, it is important to understand that the chances of winning are always stacked against you when you have a hard 16. To be precise, the dealer has a 74% chance of winning a hand if you decide to stand. On the other hand, if you decide to hit, the casino will win 70% of hands.
                                                                                             Percentage of winning
To win
If you Hit
If you Stand
You
30%
26%
Dealer
70%
74%
As you can see, there is a small difference in percentage between hitting or standing on hard 16. Based on that, it seems that the better option is to hit, depending on the dealer's upcard. Even if you may not win every time, such an action will minimize losses in the long run. After all, your primary goal should be to optimize your play where you minimize your losses and maximize your winnings.
How To Play A Pair Of 8s In Blackjack
Besides the soft and hard 16, which mostly revolve around the value of an Ace, there is another way in which you can get to 16 in blackjack. In fact, the hand with two 8s is also quite common in a multi-deck blackjack. However, this type of 16 offers more possibilities for the player than the soft or hard 16.
In short, the best way of playing with two 8s is to split them into two distinct hands. So, no matter what the dealer is showing, you should always split a pair of 8s! As a result, you will end up with two decent hands at your disposal. With a bit of luck, you could even win the hand.
Of course, you will sometimes lose both bets after splitting a pair of 8s. Even so, your combined losses over time will be lower than if you decide to hit or stand. Therefore, don't hesitate to split the 8s and play with two different hands.
When Should You Surrender On 16?
In addition to all the options we mentioned, there is one more course of action you could take if you have a 16 in blackjack. Yes, you could surrender, if the casino allows such an option. In translation, surrender means that you will lose half of the wager without even playing the hand. That is, you will give up without a fight.
Even though many players are reluctant to surrender, this can be a smart move as well. For instance, if the dealer has a high upcard (9 through A), it is better to surrender than to hit. Therefore, swallow the pride and keep a cool head when playing blackjack online. Needless to say, impulsive reactions will never result in a big amount of rupees going your way.
Final Thoughts On How To Play 16
It goes without saying that 16 is a lousy hand. In other words, this hand puts the player in a difficult position. Yet, certain tactics can help you minimize the damage and survive to play another hand. So, try to keep the losses at a minimum if you receive a 16 in blackjack. By following some of the guidelines we mentioned, you will extend the playing session. As a result, you could leave an Indian online casino with a lot of cash on your bankroll.

Chaya
Head of Content
The wordsmith of the group, Chaya is busy enjoying her newfound passion for online betting. When she's happy, she would bet the ranch to plan and create killer content – the ones that urge you to place a bet. If things don't go the way she wants them to, she would constantly act like the world is about to end. We love how she can never decide between Kohli and Dhoni.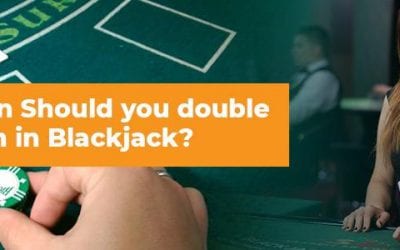 The double down option in Blackjack offers a quick way for Indian online casino players to earn bigger winnings. So, when should you take advantage of this option? We have put together a complete guide on when you should double down in Blackjack.