HOW TO PLAY 15 IN BLACKJACK?


What do you do when you get 15 in Blackjack? Do you stand? Do you hit? Or make a split instead? Let's make it easier for all Indian online casino players out there. Don't be stuck. Read our our complete guide to playing at 15 in a game of Blackjack.
Do You Hit On 15 In Blackjack?
Blackjack is among the most popular games of chance when it comes to online casinos in India. The unique combination of luck and strategy makes online blackjack an attractive prospect.
Yet, earning a decent amount of rupees by playing blackjack may not be as easy as it seems. The reason for this hides in the fact that some hands in blackjack are more challenging than others. For instance, many Indian punters are unsure whether they should hit or stand on 15.
Well, if you are one of them, take a look at the detailed explanation of such a situation. After reading this article, you'll be more than ready to join the fun at some of the best Indian online casinos.
Why 15 is a terrible hand?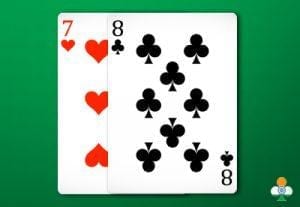 When it comes to describing the hands in blackjack, players are using a variety of terms. As a rule of thumb, the hands that range from 12 to 16 are known as stiff hands. In translation, stiff hands are the ones that leave punters in an unfavorable position. Also, blackjack players refer to all hands with a total of 12 or more – the breaking hands.
The breaking hands or stiff hands are the ones that come with a high risk of busting (going over 21). For instance, if the dealer provides you with a six and a nine, you could go over 21 if you decide to hit and get a 10-value card. Unfortunately for the punters, the blackjack deck is full of those, and 10-value cards are frequently drawn.
To sum up, Indian players who receive a 15 in blackjack will face a tough predicament. Yet, there are ways that can help you get through the 'ordeal' and earn a few rupees after all. Here is what you should do if you get 15 in a hand of blackjack.
When to hit on a 15?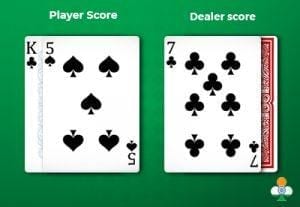 So, if you find yourself holding a 15, what should you do? Should you hit or stand? Well, this decision depends on the dealer's upcard. To put it in simple terms, here is what you should remember:
Players should hit on a 15 if the dealer's upcard is strong (7 and higher)
In other words, punters should 'bite the bullet' and go for glory. Otherwise, they will be stuck in no man's land, allowing the Indian online casino to win the bet.
For instance, players who decide to hit on 15 vs. 10 will win 23% of the hands. On the other hand, if you don't hit – you will win 22% of the hands in blackjack. Admittedly, these are poor odds, but we already said that 15 in blackjack is a very weak hand.
When to stand on a 15?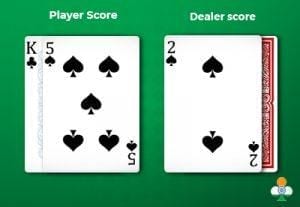 If you don't decide to hit on a 15, you can only choose to stand, unless the casino does not allow the Surrender option. By choosing to surrender, players will save half of their wager, but not all online casinos in India provide this option. Thus, you should check out our reviews of those casinos before joining one of them and starting to play blackjack for real money.
So, when to stand on a 15? Here is what basic blackjack strategy recommends:
Players should stand on a 15 if the dealer's upcard is weak (2 through 6)
For example, by standing on a 15 vs 5, players are choosing to play the waiting game. In other words, punters will hope that the dealer will go bust. Even though you will give up control in these instances, it is best to minimize the risk and play it safe. That is why standing on a 15 vs a weak upcard is the optimal betting strategy.
Conclusion
---
As we said, 15 in blackjack is a terrible hand. In short, this number puts a big challenge in front of the punters. Since 15 comes with an increased risk of busting, we recommend that players use the 'rules' of basic blackjack strategy. By doing so, they will always make the best choice, considering the circumstances. As a result, online blackjack in the top online casinos in India will be profitable and enjoyable at the same time.

Chaya
Head of Content
The wordsmith of the group, Chaya is busy enjoying her newfound passion for online betting. When she's happy, she would bet the ranch to plan and create killer content – the ones that urge you to place a bet. If things don't go the way she wants them to, she would constantly act like the world is about to end. We love how she can never decide between Kohli and Dhoni.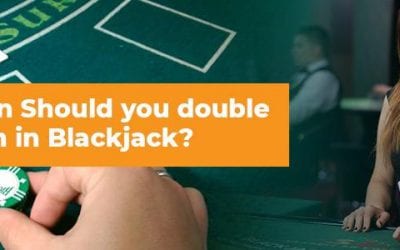 The double down option in Blackjack offers a quick way for Indian online casino players to earn bigger winnings. So, when should you take advantage of this option? We have put together a complete guide on when you should double down in Blackjack.