HOW TO PLAY A BLACKJACK 12?


Indian online casino players know hitting 12 in a game of Blackjack is one of the most difficult hands to play. We have put together a comprehensive guide for Indian Blackjack players that will make it easier to know what to do when you hit 12.
Do You Hit at 12 In Blackjack?
As we all know, some hands in blackjack are more difficult than others. To clarify, players tend to struggle with certain combinations of cards. Well, Indian players are not an exception, and they are also looking for ways to beat the dealer and earn more rupees in one of the online casinos in India.
For instance, many casino goers are not sure whether they should hit or stand on a 12 in blackjack. For that reason, we at Casinowebsites have done an in-depth guide that will let you know what is the optimal betting decision in this case. After that, online blackjack in some of the best Indian casinos could reward you with more rupees than ever.
Why Are Players Afraid Of Getting A 12 In Blackjack?
As one of the so-called 'stiff' hands, 12 comes with a bad reputation in the first place. But, why should players have sweaty hands as soon as they get a 12 in blackjack?
Fist of all, a lot of blackjack players are under the impression that 12 belongs to 'no man's land'. In other words, this number is too far from the magical number 21. At the same time, players believe that they can easily bust (go over 21) if they take the third card.
In essence, players who get a 12 in an online casino in India will face the same dilemma. Yet, the basic strategy 'rules' can make the decision-making process simple and straightforward. Here is what you should do if you want to end your session with a bit more rupees on the bankroll.
How to play a hard 12 vs a weak card?
When you get a 12 in blackjack, your betting strategy will depend on the dealer's upcard. To clarify, if the dealer gets one of the weaker cards – you should continue playing the hand. On the other hand, if he or she is showing a card higher than a 6, you can pretty much accept that all is lost and wait for the next hand.
So, if the dealer has a 2 through 6, you can either hit or stand. The optimal playing decision in these cases is:
You should HIT if the dealer has a 2 or 3
You should STAND if the dealer has 4, 5 or 6
To be clear, none of these options can guarantee that you will win the hand. On the contrary, you will lose most of the time. However, this approach will minimize the losses in the long run.
Odds and probabilities
Even though the decision to hit on a 12 vs 2 is somewhat counterintuitive, Indian players should keep in mind that this is the best option.
To be precise, the chances of winning when you decide to hit on a 12 against the dealer's 2 are 37%. When you compare that to 35% chance of winning if you stand, you can see a small difference in percentages. Although 2% may not look like a big deal, this discrepancy can save you a lot of rupees in the long term.
In fact, you have 65% of 'surviving' the bust when you get a 12. The reason for this comes from the fact that only 4 cards can send you over 21. Even though these odds are not great, they do show that you could win more hands than you will lose.
How To Play A Soft 12?
The so-called soft 12 consists of two Aces. Needless to say, one of the Aces is counted as 1 in this instance. So, the correct playing strategy in this case is:
Always SPLIT the two Aces!
In a way, this decision is one of the easiest in online blackjack. Regardless of the dealer's card or the number of decks, always split the two Aces.
How To Play A Pair Of 6s?
Another possible combination for getting a 12 in blackjack is to receive two 6s. Much like the previous situation, the correct play when having two 6s against 2 or 3 is to split. By doing so, you will win roughly 43% of the hands in blackjack.
Once again, the odds are not the most promising, but this strategy can extend your playing session in an online casino in India.
Summary
It goes without saying that 12 in blackjack is a lousy hand. Yet, players should not panic when they receive this card. On the contrary, certain plays and strategies can provide casino-goers with decent odds of earning some money. So, keep those steps in mind when you join a session of blackjack in an Indian online casino.

Chaya
Head of Content
The wordsmith of the group, Chaya is busy enjoying her newfound passion for online betting. When she's happy, she would bet the ranch to plan and create killer content – the ones that urge you to place a bet. If things don't go the way she wants them to, she would constantly act like the world is about to end. We love how she can never decide between Kohli and Dhoni.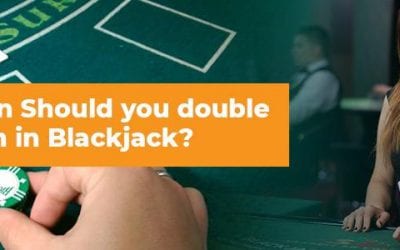 The double down option in Blackjack offers a quick way for Indian online casino players to earn bigger winnings. So, when should you take advantage of this option? We have put together a complete guide on when you should double down in Blackjack.