HANDS TO SPLIT IN BLACKJACK?

Hands You Should Always Split in Blackjack
Splitting your cards in Blackjack is a popular option among Indian online casino players. But, not every Blackjack hand is worth splitting. In this detailed article, we discuss the hands which you can always split and the ones you should never split.
It goes without saying that luck is the element we need the most if we want to have a profitable session at one of the online casinos in India. Even so, certain games of chance are offering a wide array of choices, i.e. strategies and tactics to reduce the house edge.
For instance, blackjack is a card game that comes with a plethora of possibilities. Thus, Indian players need to be as knowledgeable as possible in order to win a few rupees. One of the decisions that you have to make quite often in blackjack is splitting. For that reason, our quick guide will explain which hands you should always split in blackjack.
Basics of Blackjack – What Does it Mean to Split
---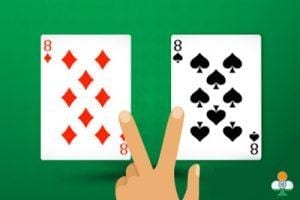 Before we go any further, let's remember what is splitting in the first place. As we all know, a deck of cards features many pairs, which are cards with the same numerical value. Well, 'to split' in blackjack means to divide the pair into two separate and independent hands. For example, a pair of 5s or a pair of Aces.
By separating the pair, the players can improve their weak hands and add more excitement to the game. Also, they will put more rupees on the table. To clarify – once you split a pair, you will have to put an additional wager for the new hand as well. So, splitting will offer you a chance of winning twice as much.
At the same time, you could lose twice as many rupees when playing blackjack at an Indian online casino. Thus, it is vital that you recognize the moments when you should split.
Hands You Should Always Split in Blackjack
---
In essence, splitting is a great way to boost the payoffs and make blackjack more enjoyable. Yet, the rules for splitting may vary from one casino to the other. Therefore, make sure to check out our casino reviews section and find the best online casino in India for your needs and preferences.
When it comes to splitting the cards in blackjack, here is the breakdown of the optimal strategy:
Always split Aces
Splitting a pair of Aces is one of those decisions that always make sense. In fact, you should make this move without having second thoughts every time you receive a pair of Aces. The reason for this simple – if you use the Aces as one hand, you will have the so-called soft 12. In a way, this hand is one of the weakest in blackjack, and only a 9 can lead you to 21. On the other hand, if you split the Aces and use them as two hands, you can even make a blackjack by receiving one of the ten-value cards (10, J, Q, or K).
Always split 8s
Likewise, players should always split a pair of eights without blinking. Once again, using the pair as one hand leaves you in no man's land. As a matter of fact, 16 is well-known for being the worst hand in blackjack. So, to avoid the stiff hands and to improve the odds of winning, you should separate the eights. By doing so, those two new hands will have a much better chance of being a winning hand.
Always re-split Aces and Eights
If the casino allows it, players should re-split the Aces or Eights every time they receive such a pair. Even though you will have to triple the initial bet, re-splitting is a viable option and you should make the most of it.
Hands You Should Sometimes Split in Blackjack
---
The propositions we listed above are ideal for punters to press the bets and earn more rupees. However, some situations in blackjack may or may not be perfect for splitting. In other words, the best course of action will depend on the dealer's card.
So, taking the dealer's upcard into consideration, you should split 2s, 3s, and 7s if the dealer is showing a low card (2 through 7). Likewise, blackjack players should split 6s when the dealer's upcard is weak (2 through 6).
Hands You Should Never Split in Blackjack
---
As a bonus, we will mention the hands you should never split when playing blackjack at an online casino in India. Unfortunately, many punters are making the rookie mistakes of splitting 4s, 5s, or 10s. But, splitting these pairs does not make sense, and you would be giving up strong combinations in exchange for less-valuable hands. In short, splitting these pairs would be a money-losing proposition, and punters should stay away from such betting decisions.
100% up to
₹25,000
Claim now
100% Up to
₹60,000
on Live Casino
Up to
₹70,000
+ ₹5000 in Free Bet
100% up to
₹80,000
Multiple Bonuses!
Conclusion
---
To sum up, splitting is an exciting and invigorating betting option. As such, blackjack players should make the most out of the proposition and get more money on the table. At the same time, it is important to play responsibly and to avoid taking unnecessary risks. Thus, players should always split a pair of Eights or a pair of Aces. All other splitting options will depend on the dealer's card, so take that into consideration. By doing so, you will earn a lot more rupees next time you join a session of blackjack at an Indian online casino.

Chaya
Head of Content
The wordsmith of the group, Chaya is busy enjoying her newfound passion for online betting. When she's happy, she would bet the ranch to plan and create killer content – the ones that urge you to place a bet. If things don't go the way she wants them to, she would constantly act like the world is about to end. We love how she can never decide between Kohli and Dhoni.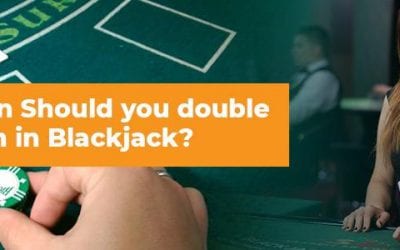 The double down option in Blackjack offers a quick way for Indian online casino players to earn bigger winnings. So, when should you take advantage of this option? We have put together a complete guide on when you should double down in Blackjack.