HANDS TO NEVER SPLIT IN BLACKJACK

Splitting cards in Blackjack is popular among Indian online casino players. But, which hands should you never split? We have come up with a complete guide to Blackjack hands you should never split. Read about it before you place your next bet.
When You Should Not Split in Blackjack?
---
Without a doubt, blackjack is one of the most entertaining casino games when it comes to online casinos in India. With a wide array of possible tactics and strategies at their disposal, Indian players can make the game profitable as well.
But, to have a chance of winning millions of rupees, players need to be aware of the nuances that make the game of blackjack. For instance, splitting is one of the integral elements of the game. Even so, lots of players do not know when they should or should not split in blackjack. So, we decided to help all who are struggling with this betting option. Our quick guide will provide you with the relevant information, so you can play with more confidence next time you join an online casino in India.
The Basics of Splitting in Blackjack
---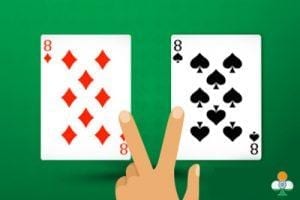 As the name suggests, 'to split' means to separate something. In this case, players who decide to split will divide their two cards of the same value into two new hands. For example, players can separate a pair of 6s, a pair of Aces, and so on. Those two new hands will be independent, and punters will also be asked to place an extra wager to cover the new hand.
On top of that, some Indian online casinos allow re-splitting, up to 4 times. To clarify, this means that you can split the new hand if you receive a pair again. Similarly, you can make the same move down the line. But not all casinos allow this option so check our casino reviews section for more info on the best casino sites in India.
When You Should Not Split in Blackjack
---
The situations in which you should split largely depend on the dealer's upcard. The same goes for the propositions in which you should NOT split in blackjack. However, one of the hard and fast rules of blackjack has always been to split a pair of Aces and a pair of Eights. On the other hand, here is a quick breakdown of the hands which you should not divide under any circumstances:
Never split a pair of 5s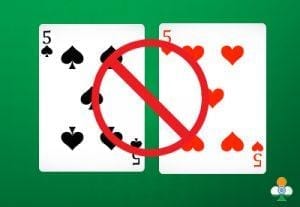 If you decide to split a pair of 5, you would join thousands of Indian punters who are making the same mistake. Unfortunately, a lot of them are 'destroying' a 10, which is one the strongest hands in blackjack, by splitting the 5s. To clarify, if you use the 5s together, you would get a 10. Well, a 10 is a hand so powerful that you should even double down in case the dealer is not showing an Ace or a 10-value card. But, if you separate the 5s, the best-case scenario would be to receive two new 10s, which then provide you with two hands of 15. As we all know, 15 is one of the worst hands in the game, and you should stay away from the so-called stiff hands as much as possible.
Never split a pair of 10s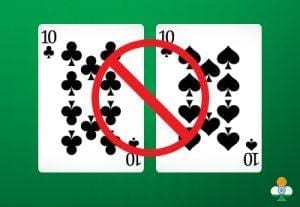 Another similar situation can be seen in online casinos in India when inexperienced players decide to split 10s in a game of blackjack. Well, by splitting a pair of 10s, those players are doing something that defies logic. What we mean by this is that two 10s together amount to 20, a hand which is almost impossible to improve upon. Even so, players who are not satisfied with this near-perfect result will play the 10s separately. And, they will hope to receive another two 10-value cards or even two Aces. But mathematical probability says that these instances often result in you receiving a 4, 5, or 6, which would leave you in no man's land.
Summary
---
Even though these two situations are the most obvious ones when you should not split, they may not be the only ones. In other words, you should not split if the dealer is in a favorable position. The bottom line when it comes to splitting comes down to whether you want to put more money on the table or not. If you feel confident that you have good odds of winning some rupees, go for it! In any other case – consider an alternative approach to beat the dealer and win some money by playing blackjack at an online casino in India.

Chaya
Head of Content
The wordsmith of the group, Chaya is busy enjoying her newfound passion for online betting. When she's happy, she would bet the ranch to plan and create killer content – the ones that urge you to place a bet. If things don't go the way she wants them to, she would constantly act like the world is about to end. We love how she can never decide between Kohli and Dhoni.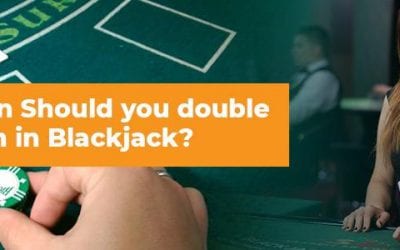 The double down option in Blackjack offers a quick way for Indian online casino players to earn bigger winnings. So, when should you take advantage of this option? We have put together a complete guide on when you should double down in Blackjack.