BLACKJACK TIPS FROM A FRIEND

Blackjack is a casino game that has historically remained beatable. But, you'd still want to have the upper hand, won't you? This is why we decided to bring in an expert. Our friend Hermant is sharing some of his best blackjack tips with us. Read on.
Blackjack Tips that will help you Improve your Game
So you've been playing blackjack for a while but never really found yourself winning that many chips. You win a few hands, you lose a few, and then you break even. You're thinking there must be a reason why so many people come back and play this game, and there is. You can be successful if you know a few tricks of the trade. So we invited Hermant from AllCasinos.in to share his best blackjack tips. If you follow this simple guide, you will have a distinct advantage next time you play.
Playing online is a good first tip. You will be more relaxed in the comfort of your own home and won't feel pressured into doing anything stupid. Choose a site that has good offers for new players.
Once you have found the site you want to play on, get sharp on your mental arithmetic. You need to be able to quickly work out which cards are going to help you and which cards will make you go bust. Practice this at home, firing hands off a deck rapidly and adding them up.
You need to know what your odds are on making a good hand. Then you will know when you should hit or when you should stand. If you are on a hard 18 there are only three cards in the deck that will help you, and it wouldn't be wise to gamble. Some cards you should always hit on, though, such as a soft 17.
Professionals say that you should always split aces and 8s. These are the cards that give you the best chance of making two good hands. Splitting other cards is more up to the player, although you should never split 5s or 10s.
When you sit down to play blackjack, you need to be in a good frame of mind. You need to be thinking clearly. Your drink of choice should be a coffee or tea. This will help you make the correct decisions.
Think of a set of rules and stick to them. Give yourself a target to reach, and when you hit that, walk away and do something else for a while. Never get fooled into thinking you are on a winning streak. Set yourself a limit on what you are prepared to lose as well, this way you will avoid disappointment.
Be sensible, study the game, but also understand there are no guarantees. These tips should help you feel more comfortable next time you play.
100% up to
₹80,000
Multiple Bonuses!
Up to
₹100,000
+ 10 Free Spins
100% Up to
₹60,000
on Live Casino
150% up to
₹20,000
on Live Casino
Claim
₹10,000
on Live Casino
100% Up to
₹10,000
+50 FREE SPINS

Chaya
Head of Content
The wordsmith of the group, Chaya is busy enjoying her newfound passion for online betting. When she's happy, she would bet the ranch to plan and create killer content – the ones that urge you to place a bet. If things don't go the way she wants them to, she would constantly act like the world is about to end. We love how she can never decide between Kohli and Dhoni.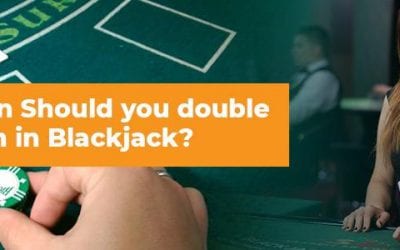 The double down option in Blackjack offers a quick way for Indian online casino players to earn bigger winnings. So, when should you take advantage of this option? We have put together a complete guide on when you should double down in Blackjack.

Welcome offer: 100% Up to ₹60,000 | on Live Casino

Casino of the Month
100% Up to ₹60,000